Christie Clinic Illinois Race Weekend
Christie Clinic Illinois Race Weekend
The Christie Clinic Illinois Race Weekend is back for 2023! We're excited to welcome back all participants to our fun and welcoming course throughout Champaign-Urbana. During the weekend, you'll get to enjoy various activities including the Green Street Mile on Thursday, Health & Fitness Expo on Thursday & Friday, the 5K Run/Walk and the 4th Mile on Friday, and the Wheelchair Half Marathon, 4-person Relay and Half Marathon, 10K, the Meijer 14th-Mile Celebrate Victory Bash, and the Youth Run on Saturday. Check out the full weekend schedule here.
Visit Champaign County is proud to be the Official Host of the weekend and will help you celebrate your success!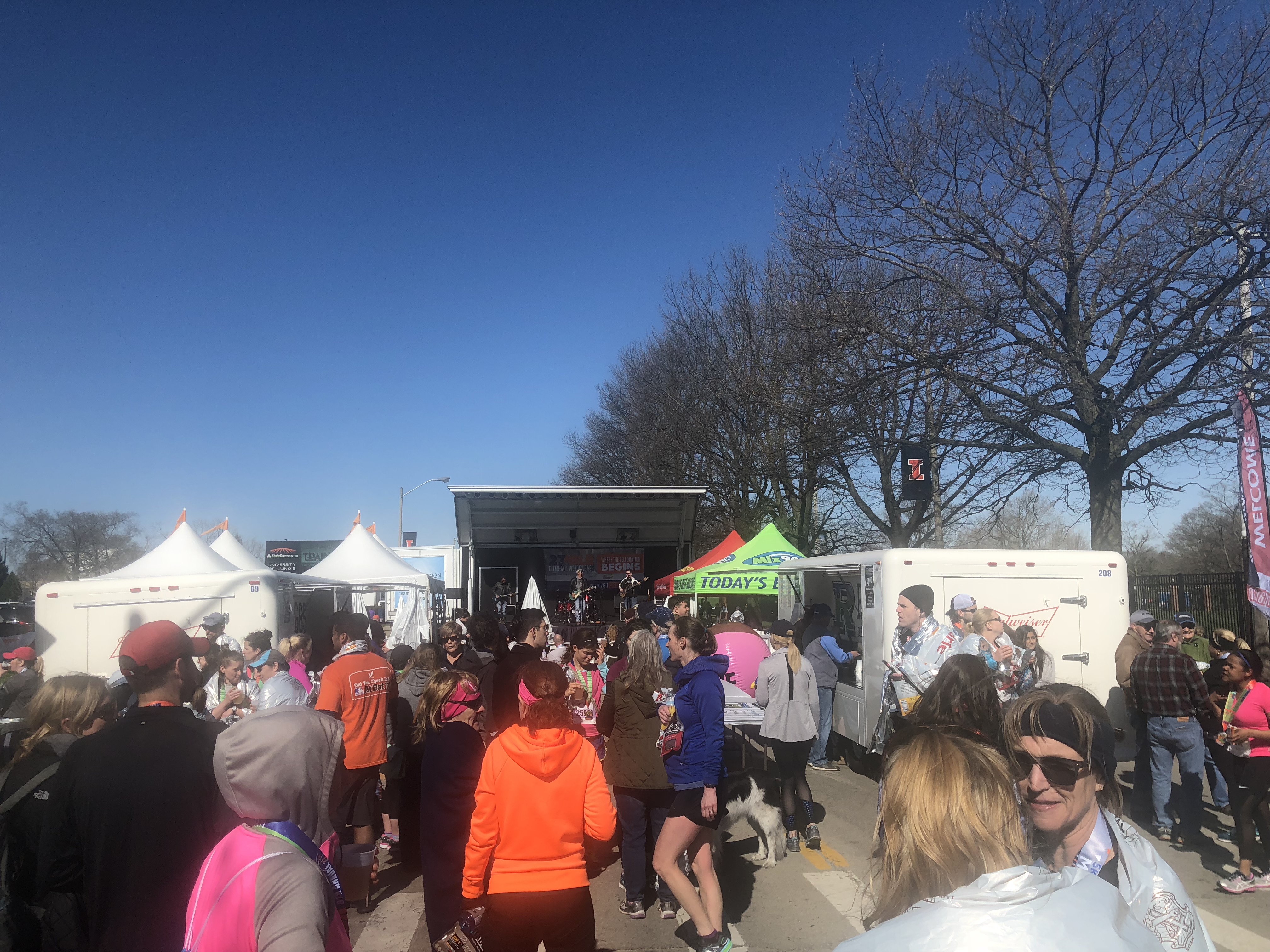 Meijer 14th-Mile Celebrate Victory Bash
Join us after your race on Saturday on Kirby Ave., just outside Memorial Stadium. Food trucks will be on hand to treat you to some of our area's local flavors! Join us after your race on Saturday on Kirby Ave., just outside Memorial Stadium. Food trucks will be on hand to treat you to some of our area's local flavors!
On Friday only, we'll have sandwiches from Jimmy Johns, delicious tropical shaved ice from Kona Ice, and tasty old-fashioned, hand-cranked ice cream from Sidney Diary Barn. For all of Race Weekend, enjoy some Itallian Beef, Bratwurst, and more from Dave's Dogs! Delicious homestyle Mexican food will also be available at La Paloma. Flour and Fire Pizza will also be on standby to give the gift of wood-fired pizza pies, and we cannot forget the refreshing taste of Riggs Beer!
Your race entry includes one ticket for a beer, wine, or cider, with your race number as your ticket (for entrants 21 and older). Non-alcoholic beverages will also be available, including Busch NA. To keep us entertained, 90's Daughter and the Tom Grassman Band will be on hand to keep us singing and dancing while we celebrate you completing the race. Aside from food trucks and live music, there will also be activities for the kids!
Wooden Nickel Program

Every year, we distribute Wooden Nickels to runners at the Health & Fitness Expo. These nickels are good for discounts at many area businesses from April 28–May 6, 2023. Whether you're looking for a treat before the race, something to eat after, or some good deals on shopping spots around town, we have something for you!
Here is an ongoing list of the participating businesses & discounts for the 2023 Wooden Nickel Program. (Last updated on April 17th, 2023)
The Axe Bar: 25% off axe-throwing price
Baldarotta's: 20% Off Any Restaurant Purchase (not valid on catering orders)
The Blind Pig Brewery: 10% off any single 4-pack purchase, 25% off of a case (six 4-packs) purchased at the Neil Street Location
Body N' Sole: 15% off any non-sale item excluding Terajuns and Garmin
Boomerangs Bar & Grill: Any beer or glass of wine for $3
CBPB Popcorn Shop: 25% off each CBPB item per nickel
Common Ground Food Co-Op: 10% off your purchase (excludes sale items, alcohol, & Co-op Basics)
Country Arbors Nursery: 20% off all perennials at checkout
Greener Goods: 15% off total purchase in exchange for a wooden nickel
Habitat for Humanity Restore: 35% off your entire purchase. Some exclusions apply
Hamilton Walkers: $20 off $40 purchase
Hopscotch Bakery Market: $3 off a purchase
Hopscotch Brunchette (The Literary): $3 off a purchase
Houlihan's: 10% off your entire bill, exclude alcohol beverages, tax, gratuity. Discount not available via third party online ordering platform - please call to order, and pay at the restaurant to redeem the discount. Cannot be used in conjunction any other discount or catering order. No cash value. Void where prohibited by law.
Industrial Doughnut: BOGO Donut with Wooden Nickel. Buy one donut, get one FREE-any made-to-order donut!
Jane Addams Book Shop: Buy 1 book, get 50% off 2nd book. Offer good on up to 3 books with discount.
Used books only and lowest priced book receives discount. Cannot be combined with other offers on special orders
La Bahía Grill: Any person that presents a wooden nickel will receive 20% off their total
Maize at the Station: One free regular margarita w/ purchase of plate
Marketplace Shopping Center: 1 free carousel ride
Martinelli's Market Bakery & Deli: Receive a free small deli side (Yukon Gold Potato Salad, Itallian Picnic Pasta, Greek Orzo Salad, or Coleslaw) with purchase
Overtime Nutrition: Free energy drink to-go packet with the purchase of a protein shake (or another drink).
The Main Scoop Mahomet: 10% off your purchase
Pekara Bakery & Bistro: Free freshly brewed iced tea
Planted: Participants will receive 15% off when a nickel is exchanged at the register
Plant Mode: 15% off any purchase
Po'Boys Restaurant: 1 Free slice of pie with purchase of meal
Red Herring Vegetarian Restaurant: April 28th ONLY - All you can eat pasta night (pasta, salad, & garlic bread) for $20
April 28th through May 6 - A free cookie with any purchase
Staerkel Planetarium: Buy one, get one free! Attend one of our public shows on Friday or Saturday evening. Purchase one ticket get the second of equal or lesser value free! One BOGO per token. Offer not valid on May 5th Light Show - Pink Floyd's Dark Side of the Moon.
Stango Cuisine: 20% off any entree
Ten Thousand Villages: 25% off one full-priced item

TCBY: First 3 ounces of froyo free
Triptych: 25% off all merchandise and packaged beer (limit 1 case of 16 oz cans - 24 total cans). Not
valid for draft purchases or gift cards. Not applicable with other discounts