Illinois Homecoming
Illinois Homecoming
October 9–15, 2022 | We are fam
ill

y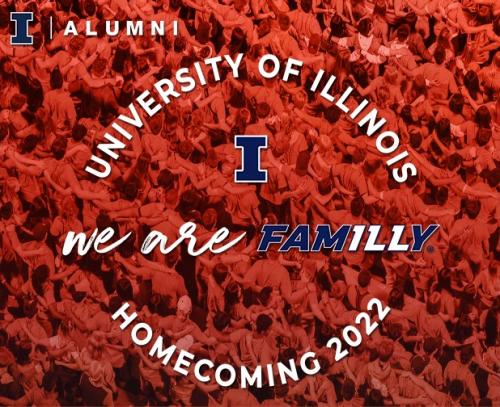 Homecoming at Illinois is always a week to remember, and this year is no different! Whether you are able to join us in Champaign-Urbana (which we hope you will) or are planning to participate virtually from around the world, we think you will find something you will enjoy. Each day, the University of Illinois is celebrating the spirit of the Illinois FamILLy, with events across campus. This year as an added bonus, the University is celebrating the completion of the With Illinois capital campaign, with a celebration event on Friday night that is open to all!
We look forward to seeing you soon!
Check out the schedule of Homecoming events below but be sure to visit (homecoming.illinois.edu) often as many more events and content will be added as the week approaches.
Schedule of Events
Sunday, October 9
Homecoming 5K – Registration will open at 9:00 am, Race to begin at 10:00 am – Sign Up
Homecoming Kickoff Event – 10:30 am


Alumni Center Fountain Dyeing, Pancake Breakfast, Special Guests!
Monday, October 10
Dinner on the Quad – 5:00 p.m.
Tuesday, October 11
Global Talent Show – 7:00 p.m.
Wednesday, October 12
Greeks Support Homecoming BBQ at Washington Park – 4:00–6:00 p.m.
FAA Friends & FamILLy Celebration – Alice Campbell Alumni Center (Main Ballroom) – Doors open at 5:30 pm

The University invites all FAA alumni and donors to join them for this special event to commemorate the close of the historic With Illinois campaign and celebrate this year's Homecoming. If you plan to be on campus during this time, please join the celebration. The University will be requiring that all attendees RSVP to secure their attendance at this event. Please do that by submitting this short form by September 28.

Neon Trees – 7:30 p.m., Doors at 6:30 p.m.

Neon Trees will light up the State Farm Center Theatre as part of a new addition to University of Illinois Homecoming Week festivities. Tickets are on sale here and 866-ILLINI-1 and are priced affordably between $29 and $49 plus fees (University of Illinois Students receive a $9 student discount).
Thursday, October 13
Alumni Gala – 6:00–10:00 p.m. *This is a private event.
Friday, October 14
Illinois swimming and diving vs. Illinois State/Southern Illinois,

3PM (ARC indoor pool)
Come cheer on the Illinois women's swimming and diving team as they take on in-state foes in a tri-meet.

Homecoming Celebration at the Illini Union Art Gallery -– 1:00 – 4:00pm, Illini Union Art Gallery (1401 West Green Street)

The Office of the Vice Chancellor for Student Affairs invites all Illinois alumni and donors to kick off Homecoming with an open house reception at the Illini Union Art Gallery. Enjoy the exhibit Illini Past and Present by artist and alumnus Howard Kanter while reconnecting with classmates and staff from student organizations, cultural centers, fraternity & sorority affairs, the Illini Union Board, housing, and so much more! We will have Illinois pennants, Homecoming pins, and refreshments available for attendees. Tours of the Illini Union will be available. We look forward to thanking you for being With Illinois and connecting with all our Illinois FamILLy!
RSVPS are requested but not required. RSVP HERE.

The Art and Science of Preserving Our Library's Collections – 1:30 – 3:00pm – Main Library, 1408 W. Gregory Drive, Urbana

Hands-On Workshop in the Reading Room, 200 Main Library (This event is hosted by the University Library)
Space is limited and registration is required for "The Art and Science of Preserving Our Library's Collections."

From Dorm Broadcasting to the Digital Frontier: A Journalist's Journey – 3:00 – 4:30 – University Archives, 146 in the Main Library, 1408 W. Gregory Drive

Hear from Alumnus Charlie Meyerson about his student experience at Illinois. (This event is hosted by the University Library)
Space is limited and registration is required for "From Dorm Broadcasting to the Digital Frontier: A Journalist's Journey."

Tour of Altgeld Hall – 3:30 – 4:15 pm

Join the College of Liberal Arts & Sciences during Homecoming weekend to tour Altgeld Hall and learn about the renovations planned for this iconic building. Tours will depart from the north lawn every 15 minutes starting at 3:30 p.m., with the final tour at 4:15 p.m. Tours take about 30-40 minutes.

Homecoming Parade – 5:30pm (Parade map will be added when available)

This event will be live-streamed!

WITH I Campaign Close Event – 6:00 – 10:00pm, Sky Show starts at 8pm

Where: Grange Grove, Memorial Stadium

Join the university, alumni, donor, and Champaign-Urbana communities to celebrate the close of With Illinois, the university's most successful fundraising campaign to date! As part of the kickoff to Homecoming weekend, the gates of Grange Grove will open at 6:00pm for free food, games, music, and other entertainment. Then at 8:00 pm, enjoy an exclamation point on the evening – and the campaign – with a sky show and a performance by the Marching Illini. Includes FREE food trucks and fan activities. FREE for general public to attend/watch.
Saturday, October 15 (Game Day)
Grange Grove/Tailgating- Parking lots open at 7:00am
Applied Health Sciences (AHS) Homecoming Tailgate Party – 9:00 – 11:00am, Memorial Stadium Lot 31, 1402 S. 1st St.

All AHS alumni and friends are encouraged to stop by our tent for complimentary food and drinks prior to the football game.
RSVP for the AHS Tailgate Party

Football Game vs. Minnesota – 11:00am
Saturday Night Live: Homecoming Edition-Downtown Champaign – 3:00 – 8:00pm
Late Night Dance- 10:00pm -1:30am
Ludacris Concert with special guest TikTok star charlieonnafriday – 8:00pm – State Farm Center Theatre

Tickets go on sale to the public Monday, September 19 at 12pm. Tickets can be purchased at StateFarmCenter.com/Ludacris, by calling 866-ILLINI-1, or at the Illinois Ticket Office at State Farm Center. Tickets range from $49.50 to $69.50 before fees and current University of Illinois students will receive a $10 discount.
Stay tuned for updates to the schedule here.
PLACES TO STAY
Be sure you have a place to stay for the game and all of the activities. Check out our complete list of hotels in the greater Champaign-County area, ready to make your stay Outside of Ordinary!
PLAN YOUR TRIP
Plan your entire weekend with our Experience Guide, filled with ideas on places to visit and eat in our award-winning culinary destination!