Our Stories
Order Thanksgiving Dinner In Champaign County
Order Thanksgiving Dinner in Champaign County
November 3, 2020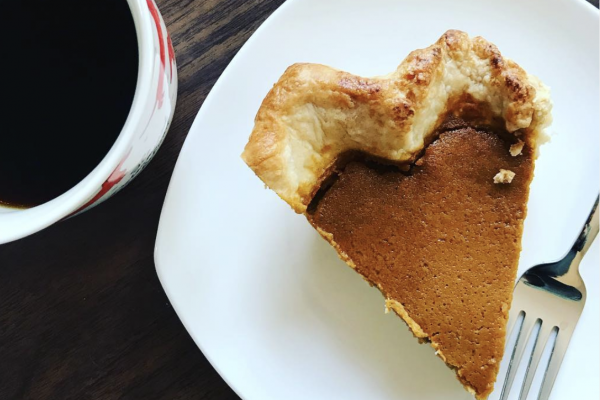 2020 has thrown just about everything at us. Take Thanksgiving cooking off your to-do list this year and support local restaurants. Thanksgiving food is wonderful, but it's also quite a bit of work. You might be looking to try something new this year, but that doesn't mean you have to sacrifice the turkey and fixings you love for the holiday. Some really great options for Thanksgiving catering in Champaign County are accepting pre-orders now to take the stress out of the holiday. Here's where to look for your Thanksgiving meal.
See something we're missing? Let us know by emailing our Taylor, our Communications Manager, at taylorb@visitchampaigncounty.org!
Champaign County Thanksgiving Catering Options
We're going in alphabetical order this year for offerings. As we update the list throughout the end of October and November, we'll ensure that all links get you to the online ordering methods as quickly and easily as possible.
Updated as of 10/20/2020
Common Ground Food Co-op
If you still want to cook but want to secure a quality turkey this year, then here's an option for you. Common Ground offers Triple S Farms turkeys each year to all who want to order - no membership required! There are also great pick-up options with curbside services offered this year from their location in Lincoln Square Mall. Order before November 6 for a chance to win your turkey for free! Place your order at Common Ground for Thanksgiving turkey soon to be entered to win that free bird!
dish passionate cuisine
Dish Passionate Cuisine is offering a great Thanksgiving dinner lineup full of options for whoever might be at the table this year. With options for both per-person plates and a family of four, everyone can get the main courses and side dishes they love. Plus, you can add on dessert options as well. Lastly, there are great options for reheatable meals to pick-up the day before Thanksgiving as well as same-day pickup of hot meals. The options are limitless.
Esquire Lounge
One thing missing from the traditional Thanksgiving setup? Esquire Lounge cocktails! This year, that doesn't need to be the case. Esquire is offering a great lineup of food for dinner, dessert, and a festive adult beverage! Options include fried chicken instead of turkey, mashed potatoes, rolls, and more! The full Esquire Thanksgiving menu looks incredible, featuring pies from Central Illinois Bakehouse and a $15 cranberry sangria for 2! Place your order now by calling 217-398-5858 for pickup between noon and 2 p.m. on Thanksgiving!
HICKORY RIVER SMOKEHOUSE
A favorite for Texas-style barbeque and smokehouse style cuisine, Hickory River Smokehouse in Urbana is also offering Thanksgiving catering. Order by November 24th to make sure you secure an order of turkey, mashed potatoes, stuffing, green beans, gravy, and rolls. You can also bring home a smoked ham instead of a turkey if you choose!
Michael's Catering and Café
Michael's Catering really does it all. There's not a single offering on their regular rotation of menu items that doesn't hit the spot. The same goes for their Thanksgiving menu for 2020. On Wednesday, November 25, you can pick up meals per person with heating instructions and a great lineup of dishes. Turkey, green bean casserole, and Central Illinois Bakehouse rolls come standard. You'll also have options to add things like pumpkin cheesecake or stuffed sweet potatoes to your order.
Neil St. Blues
Everything on the incredible Thanksgiving menu for Neil St. Blues is a la carte, meaning you can order exactly what you want and need. Plus, since it's from Neil St. Blues, you know you're getting some incredible options. Cajun turkey, molasses brown sugar ham, collard greens, and more give you the taste of Thanksgiving with the special touch of this incredible downtown Champaign restaurant.
Olde Time meat and Deli
Olde Time Meat and Deli is a Champaign staple and their turkeys are a favorite for many locals. You get unique options from them as well. Order a fresh, Amish, free-range birds for $3.49 lb or bone-in turkey breasts for $5.99 lb and bone-less turkey breasts for $6.99 lb. Call (217) 355-0000 to place your order today!
Party in a pinch catering
Party in a Pinch Catering is offering a great option for homestyle Thanksgiving cooking with options to fit it right to your preference. Choose from ham or turkey as well as a number of great sides. There are options for ordering Thanksgiving meals for 4, 6, or even more if you call and request personally.
PIATO CAFÉ
Piato Café is offering options for catering this year that come in four parts. First, choose a bird, with options for turkey or a vegetarian Acorn Stuffed Squash. Then, choose everything from sides to vegetables, as well as a mouthwatering dessert. Because the catering option provides food at a per-person ordering system, everyone can get exactly what they want, which makes for a wonderful Thanksgiving dinner.
It's not all about dinner, however. Desserts at Piato for Thanksgiving are a staple of many who have ordered Turkey Day helpings for years. From spiced sweet potato pies to pumpkin bread pudding, the options at Piato are fit for an autumnal banquet. Call or email to order your meals today - the deadline for orders is November 20th at Noon. Pick up is 10 a.m. to 2 p.m. on November 25th. Reach Piato at 217-344-9015 or info@piatocafe.com
The Wheelhouse
The Wheelhouse in St. Joesph is a favorite for farm-to-table fare and fun takes on old classics. This year, The Wheelhouse has Thanksgiving dinner for 4-6 people and an insane collection of Thanksgiving favorites. From a roasted turkey and Oyster Mushroom & Herb de Provence Stuffing to two whole pies and so much more, The Wheelhouse is one of the most bountiful offerings this year in our area. Find the full menu on their Facebook page.
Chain Restaurant Options
BOB EVANS
Bob Evans is a favorite for homestyle cooking year-round, but you can also pre-order Thanksgiving dinner from this comfort restaurant. For more than 30 years, Bob Evans has been perfecting their slow-roasted turkey, so rest assured your Thanksgiving centerpiece is in good hands. You can also opt for a ham and an impressive array of sides that'll make everyone eating think it's homemade. With rolls, cranberry relish, mac and cheese, and more, your dinner table will be as full as your guests!
CRACKER BARREL
Cracker Barrel offers Thanksgiving dinner in an easy-to-assemble and serve way. With their "Heat-n'-Serve" prep and presentation, you get an entire Thanksgiving meal for 4-6 people ready for serving in just two hours. Explore their options and menu for this year on their website above.
Desserts
CENTRAL IL BAKEHOUSE
Area favorite Central IL Bakehouse always takes catering options for Thanksgiving! Be sure to watch for their official announcement of 2020 offerings on Facebook; they're known to make everything from pumpkin pie to dinner rolls of various flavors and situations (specific rolls meant to go PERFECTLY with leftover turkey are a must!)
Curtis Orchard
Have you ever ordered ahead from Curtis Orchard's bakery? Those apple cider donuts might be the perfect way to kick off Thanksgiving this year, so consider ordering something from their website! Each order needs 24 hours notice, but rules and policies apply to ordering ahead, and may even change for the holiday, so call and make sure you can get your sweets in time! On top of donuts, they also bake a number of pies and cobblers to order, so don't delay!
Geschenk Boutique and Coffee and Tea Haus
Geschenk is a favorite in St. Joesph and they're getting in on the Thanksgiving pies and desserts this year! They're offering great options for pies and cookies as well as scones and cinnamon rolls to get your day off to a sweet start! Be sure to order by calling 469-6034, or visiting their online site.
HOPSCOTCH bakery + Market
If you've had Hopscotch baked goods, then you know why so many love ordering from them for Thanksgiving. This year's list of Thanksgiving options can be found at their Hopscotch Curbside website. Favorites including pie, cobbler, cinnamon rolls, and more are back. You can also order brioche buns, maple cinnamon butter, Thanksgiving sandwiches, and more to mix things up a bit. All pickups for pre-orders will take place on November 25 from 9 a.m. to 3 p.m.
OH, HONEY PIE
Looking for Thanksgiving pie from a local favorite? Even just ordering dessert and doing the rest yourself can take a huge load off your to-do list for the day. Oh, Honey Pie's delicious Thanksgiving pie menu is seriously too sweet to pass up this year. Check out the full lineup including pumpkin, pecan, and more!
PO' BOYS
Po' Boys has a great lineup of pies for $20 each this Thanksgiving. From holiday favorites to delectable options for those with a real sweet tooth, be sure to check out all they have to offer.
Featured Image: Hopscotch Bakery