Our Stories
Tuesday Trails With Terri: Mattis Park
Tuesday Trails with Terri: Mattis Park
November 19, 2019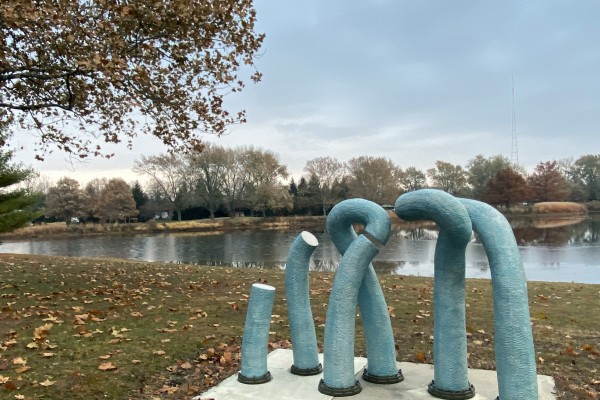 A week ago, we were barely above 0 degrees, with snow and ice on the ground. Despite my best intentions, I decided to take the week off from running so I didn't end up breaking anything. So it felt great to get back at it this morning, just before rain was set to start. Today, I went to Mattis Park in Champaign to run the park and Boulware Trail which connects the park to the many businesses in the area.
I'm an early riser and always awake before my alarm, but I apparently needed my sleep this morning as I was startled by the sound of my phone telling me to get up. This kicked off a series events that didn't start my day as planned, so arriving at the park was a serene moment where I could get the day back on track. I encountered quite a few people out riding their bikes to work and walking their dogs, along the trails.
Most of the leaves have fallen from the trees, but even those that have taken their winter form around the lake create a welcome start to the day's run.
There are numerous benches in the park, allowing for ample places to sit and admire the scenery, read a book, or catch up with a friend.
Had I not been a little chilly, I would have chosen this spot to gather my thoughts for the day.
The park has a nice trail that loops around the lake with several bridges, and also opportunities to take paths leading into the surrounding neighborhoods.
The Boulware Trail extends North from Mattis Park, running behind Fox Drive, where you can find many large companies from Amdocs to Jimmy John's headquarters.
While the plants didn't make it past last week's freeze, you can still appreciate the beautiful landscaping from the Champaign Park District along the trail.
The trailhead is located just off St. Mary's Rd. and Fox Dr., conveniently behind Lodgic. I nearly popped in for a steaming cup of coffee to warm up before making my way back to the park.
I wish I'd run through the area two weeks ago, when I'm sure the colors hanging over the trail were at their peak.
Back in Mattis Park you'll find this island of landscaping, but look closely and you'll see the piano for kids to play on. I really wanted to do my best Chopstix channeling my inner Tom Hanks from Big.
So much to admire in this park from all sides of the lake.
One of several bridges throughout the park, perfect for those family pictures.
As fall gently fades, you can start to appreciate the beauty of winter.

It was great to get back out today to run. Next week brings Thanksgiving and we'll have a special treat for that run, so stay tuned! Have some place you love to run in the colder weeks? Let us know on our Facebook page!