Our Stories
Five Ideas For Planning Family Activities
Five Ideas for Planning Family Activities
November 21, 2019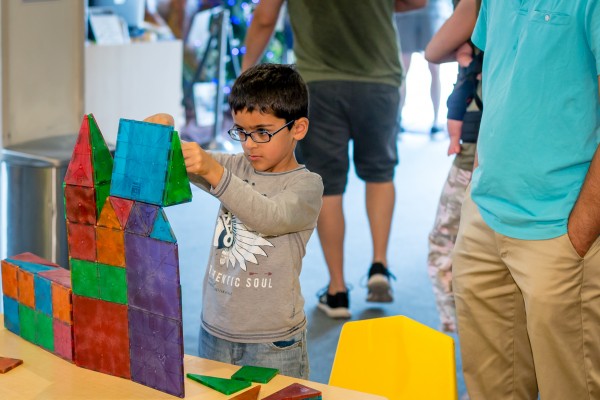 There's no time quite like family time. The greater Champaign County area is a wonderful place to raise a family, or to bring the family on a visit. With so many options for things to do and places to see, we've got your next family plans covered! Here are five ways to plan an Outside of Ordinary adventure with your family in the area.
Ideas for Families in Champaign County
Experience a Live Performance Together!
There are so many great places to see theater performances and live music in our area! From the outdoor venues residents and visitors frequent in the warmer months to the historic stages people perform on every night, there are plenty of family friendly options! It's really exciting to experience a live show at the State Farm Center from their Broadway series, among other family-oriented events. Likewise, shows at the Virginia Theater and the Krannert Center for the Performing Arts are often geared towards kids or all-ages. From junior theater to interactive entertainment, keep an eye on live performance in the Champaign-Urbana area! A show or live performance makes a great gift for the family that doesn't just turn into another thing around the house, but a memory everyone can make together.
Return to a Family Favorite!
For a memorable activity with the family, you don't always have to try something new! Nothing makes the evening more eventful than getting everyone excited about a favorite tradition or activity! If your family loves trips to Hardy's Reindeer Ranch or the Orpheum Children's Science Museum, it's exciting to get everyone together and return to a favorite attraction or activity. Places like Museum of the Grand Prairie and Staerkel Planetarium are both constantly offering great programming, and there's nothing wrong with returning to the places your family loves most!
Experience the Excitement of an Illini Basketball Game!
Men's and women's Illini basketball are in full swing now! With high expectations for the season performances of both teams, this is an awesome time to get serious about your Illini fandom! Even if you're not a family that watches sports at home very often, a live college basketball game has it all; the crowd, the action, and the backdrop of the State Farm Center makes for a really fun night out with the entire family. Grab some fresh Illini gear, and don't forget to keep an eye on our Game Day Guides we write up to make Saturday games a whole weekend affair!
Turn Dinner on Its Head with a New Eating Experience!
The best way to mix things up for the evening is to go somewhere for dinner! The best part of eating out in our area is that you can get a range of different prices, cuisines, and settings for your dinner without leaving the greater Champaign County area! A great option for something a little different is taking the family to Ott's in Rantoul for a traditional diner experience! With a diverse menu of Americana-dining favorites, the atmosphere and food are both wonderful for a fun family night out. If you really want to mix things up, you could take everyone for a fondue dinner or dessert at The Bread Company in Urbana! With cheese and chocolate fondue, as well as pizzas, salads, and other delicious bites, it's fun to expose the family to different sorts of food preparation and flavor! Truly, you can't go wrong with the diverse dining options in our area, so find something that sounds unique and fun, and give it a go!
Take the Family to a Holiday Parade!
There are a lot of great holiday lights displays to check out with the family. Other than getting to these events, they're largely cost-free, allowing you to decide if you want to pair it with dinner or hot cocoa, or just make it about spending time together with the holiday lights! A holiday parade can be a great way to see lights and enjoy the energy of a vibrant evening downtown. The Parade of Lights in Downtown Champaign takes place the Saturday after Thanksgiving, with horse and carriage rides, scavenger hunts, and an appearance from the man in the big red coat himself! Rantoul hosts a Christmas Parade on December 6th, which is an event you don't want to miss. With a theme like "Light Up Rantoul," you can imagine the amazing sights and sounds that will accompany the event.
Family Activities in Champaign-Urbana and Beyond
Family nights aren't just one evening; they bring about memories that last a lifetime. It doesn't even need to be an elaborately planned night out; just spending time together doing something everyone enjoys can do the trick. Family matters most at the end of the day, and the greater Champaign County area is rich with ideas and inspiration for an Outside of Ordinary family night.