Our Stories
Tuesday Trails With Terri: Crystal Lake Park
Tuesday Trails with Terri: Crystal Lake Park
November 26, 2019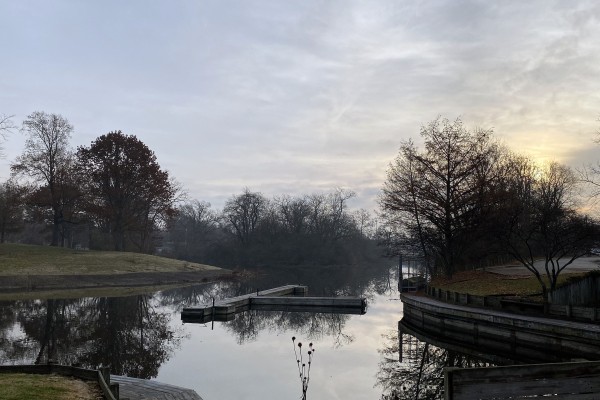 It's always nice to head into a short work week, with Thanksgiving looming on the horizon. In Champaign-Urbana, it's a tradition for thousands to start their holiday with a one-mile run/walk at the Urbana Park District's Turkey Trot. I could think of no better way to get in the spirit of the holiday then heading to Crystal Lake Park to preview the course.
Elsie and Ashley from the park district joined me this morning to talk about the race and what to expect. Check out what they had to say:
They led me to the start of the course and off I went to preview what thousands will see in just a few days.
The start is between the two trees, and Elsie assured me that they'll have a very professional, chalk-drawn start line!
After heading down the hill, I looked to my right and saw the stairs almost hidden going back up the hill, with the remains of fall scattered on top.
The park has a number of bridges so you can go any number of directions in the park, crossing over the lake and into the woods (sounds like the start of a song...)
The reflection of the trees with the sun rising gets me every time.
There are a number of spots to sit and overlook the lake, and if I didn't have a busy day ahead of me, this would have made a perfect coffee spot.
On the North end of the park, you'll cross the stream heading to the lake. Behind me is the Crystal Lake Park Family Aquatic Center and beyond that, the Anita Purves Nature Center. Crystal Lake Park is a hub of activity.
Another bridge that will take you into the heart of the park, where you'll also find Busey Woods.
One of the many entrances to the park, this one is off Broadway Ave.
Plenty of wide open spaces for running and playing, with a new accessible wide path going in to create more routes within the park.
Came back through the North side of the lake to catch a view of the Lake House. In the summer, you can rent a paddle boat or canoe to head out on the lake, or rent this space for an event!
Fall colors are holding on a little longer.
One last view as I cross the bridge back to the Lake House.

For anyone participating in the Turkey Trot, you'll be in for a treat in this park. It's a great area to explore and head off into one of the many trails into Busey Woods. I hope everyone has a wonderful Thanksgiving and enjoys time with their loved ones.

Make a recommendation on where I should run next! Comment on our Facebook page!