Our Stories
Tuesday Trails With Terri: Japan House & Arboretum
Tuesday Trails with Terri: Japan House & Arboretum
December 3, 2019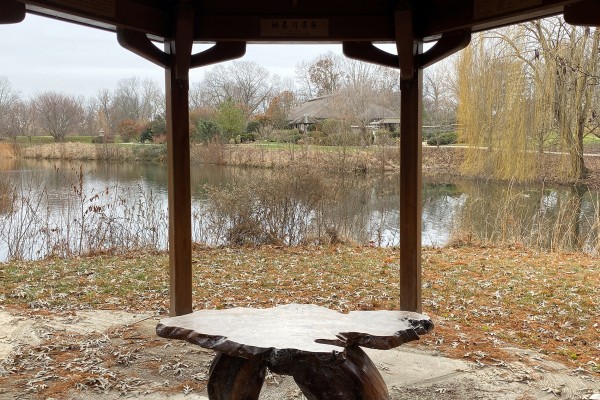 After stuffing myself with plenty of turkey, potatoes and several different types of stuffing, not to mention some pie, today's run was 100% necessary. Today, I went out to the Japan House and the Arboretum at the University of Illinois. This area has always been a favorite of mine any time of the year for many reasons. Regardless of the season, it's always beautiful, but I always discover something different each time I'm there.
I started on the South end of the Japan House, where you'll find the Dry Garden. It's immaculately maintained and different from any other garden you'll find in the area. Learn more about it here.

There are so many ornamental pieces throughout the area, including several stone lanterns, this one overlooking the pond.

Everything in the area is deliberate. This new pathway leading from the bridge to the gazebo portrays the shadows of the nearby trees, and were created from bamboo plants and pebbles.
The Azumaya was built in collaboration with alum, Nick Offerman, who studied at the Japan House while at the University. The hand-carved bench from Offerman is a popular spot to stop and contemplate.
Leading into the Arboretum, just North of the Japan House, you'll find a lovely pop of color in the benches at the entryway.
The new Sesquicentennial Garden in the Arboretum branches off on the North side of the gardens, and features this stunning quartzite bench.
The Arboretum continues to grow as I stumbled upon this new area on the South side of the area, with more to come!
There were a handful of Blue Jays following me back into the Sen Cherry Tree Allée heading towards the Japan House. Managed to capture a photo of one before they took off again.
Another beautiful lantern adorning the property, just outside the Japan House.
Numerous pathways surround the house, which holds programming throughout the year. Follow these paths when you enter for a tea ceremony.
A lovely view of the house from the bridge crossing over the pond.
Guests awaiting for a tea ceremony gather in the Tea Garden, following the stone path alongside the Japan House. During the winter, this garden is closed for safety but manage to still sneak in there today.

The Japan House and Arboretum combine to make a perfect area not just for a run, but a stroll through the gardens in any season. We'll be back in the spring to catch the Cherry Blossoms and the flowers in the Arboretum as they're planted. Until then, check out all of the upcoming programming at the Japan House!

Have an idea on where I should run next? Comment on our Facebook page!