Our Stories
Eat Fresh. Eat Local.
Eat Fresh. Eat Local.
March 3, 2020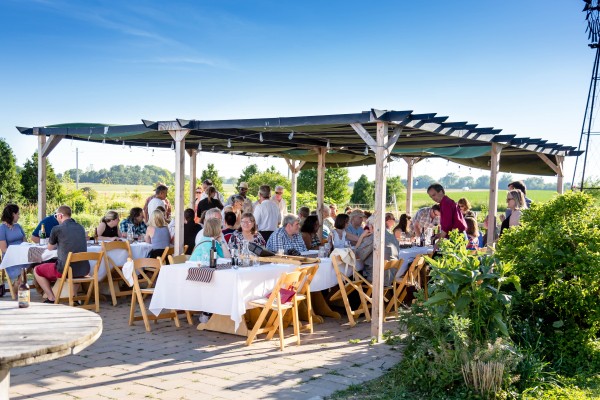 As you approach the greater Champaign County area from any direction, you'll see miles of farmland overflowing with traditional crops such as corn, soy and wheat. Look harder, and you'll find dozens of additional farms growing and raising food that sustain us year-round. We enjoy the bounty of these crops through on-farm experiences, markets, and authentic farm-to-table dining. Check out our suggestions for eating like a local, with all local ingredients.
Go to the Source
There's no better way to eat local than to enjoy a meal on the farm. We have two Outside of Ordinary dining experiences of a lifetime where you can dine communally on the farms growing and producing some of our area's top ingredients.
Prairie Fruits Farm & Creamery—This goat dairy is a local favorite, raising goats to produce their award-winning cheeses and goat milk gelato. While you can find their products at the Urbana's Farmer's Markets and in area stores, a visit to the farm is well worth it. They have many ways to experience the farm, from happy hour walks with the goats to slow-course dinners on the prairie. In the spring, don't miss Babies & Brunch when over 100 baby goats are romping around and you can enjoy some freshly baked donuts, goat's milk hot cocoa, and other locally-raised ingredients for a delicious breakfast. Their Dinners on the Farm series will delight all your senses, with local chefs and many from Chicago creating special menus to take advantage of the ingredients in our community while you sit under their new pavilion under the setting sun.
Willow Creek Farm—This sustainable farm in Urbana sources ingredients to several local restaurants including The Wheelhouse, the Pink Pig, and Hank's Table. However, they offer numerous opportunities to have a one-of-a-kind dining experience in a stunning setting with ingredients just feet from the table. Talented chefs prepare five-course meals using seasonal ingredients paired with approachable wines. Check their calendar for upcoming dates for this Outside of Ordinary experience.
Dine Farm-to-Table
With the richest soil around, sourcing local ingredients is top of mind for area chefs looking to stand out. Check out some local eateries that have made eating local a priority.
Shop the Markets
Surrounded by agriculture of all kinds, our community benefits with an abundance of locally-grown and raised ingredients. From Monticello to Homer, our community has a farmers market happening nearly every day of the week during peak season from May–October, and a weekly indoor market through the winter. Here's our highlights of where to shop and when:
Urbana's Market at the Square—One of the largest markets in the state, the Market at the Square, held on Saturday mornings, features over 70 regional vendors showcasing everything from vegetables, proteins, cheese, flowers, jewelry, art, and more. This market is a community gathering from May–November, with live music, food trucks, kids activities and many other programs.
Champaign Farmers Market—This mid-week market in downtown Champaign is perfect for picking up those ingredients to make a delectable dinner at home. Hosted by the Land Connection on Tuesday afternoons, you can find veggies, fruits, honey, flowers, baked goods, coffee, and more, all grown, raised, or produced within 150 miles of Champaign.
Rantoul Farmers Market—Held every other Wednesday from May–October, the Rantoul Farmer's Market is a home to grow and gather in their quaint downtown. The market welcomes fresh produce, food trucks, custom vendors, and much more so you can get fresh ingredients to get you through the week.
Here's your calendar of all markets in our area and when you can shop them!
Tuesday—Champaign Farmer's Market, 3:30–6:30 p.m., One Main Plaza, May–October
Wednesday—Rantoul Farmer's Market, 4:00–7:00 p.m., Congress & Garrard, every other week from May–October
Homer Farmer's Market, 4:00–6:00 p.m., downtown Homer from May­–September
Thursday—Monticello Farmer's Market, 3:00–6:00 p.m., State & Livingston, mid-June–October
Sustainable Student Farm, 11:00 a.m.–4:00 p.m., University of Illinois Quad, end of May–October
Friday—Mahomet Farmer's Market, 4:00–7:00 p.m., downtown Mahomet, Memorial Day–mid-October
Saturday—Urbana's Market at the Square, 7:00 a.m.–Noon, Corner of Illinois & Vine, May–October
Ready to plan your local foods tour? Download our Experience Guide for more area information, or discover the many hotels in the area to book your stay!