Our Stories
Christmas And Christmas Eve Catering Options In Champaign County
Christmas and Christmas Eve Catering Options in Champaign County
December 10, 2020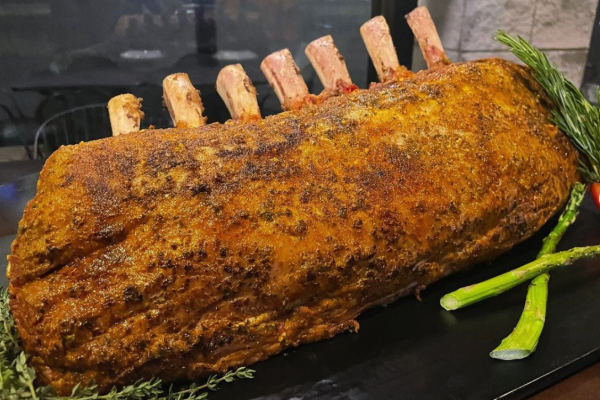 The most wonderful time of the year is a lot more enjoyable when you're not worried about cooking. Support local restaurants and save yourself a headache this holiday season by opting for Christmas and Christmas Eve catering options in Champaign County!
Catering options for Christmas and Christmas eve in champaign county
If you're looking for places that are open for Christmas in Champaign County, then you've come to the right place. We're working on this list in real-time, so if we missed something, please feel free to email us at taylorb@visitchampaigncounty.org.
Baxter's Grille
Baxter's is a favorite in Champaign and they're offering a delicious prime rib dinner for Christmas this year. Place orders by the 21st for pickup on Christmas Eve from 10 am - 4 pm. The meal feeds 4-6 and includes green beans, rolls, mashed potatoes, salad, and their insanely popular pumpkin gooey butter cake!
Big Grove Tavern
From bone-in ribeye roasts to desserts, wine, and more, Big Grove Tavern has its full Christmas menu out now. Choose your entrees, sides, spirits, and more, and even opt for a delivery to Champaign, Urbana, or Savoy for $10. Pickup is either 12/23 or 12/24. Pre-orders are being taken now through Monday, December 21. Orders may be placed at sales@biggrovetavern.com, or over the phone at (217) 239-3505
Blue Dragonfly Catering
Blue Dragonfly Catering has a full menu available for pre-order to make time for pickup on 12/23. From Holiday Pies to sides and main dishes as well, there's something for everyone on this menu! Make the most of your holiday by staying out of the kitchen and let Blue Dragonfly Catering handle the rest.
Dish Passionate Cuisine
Pickup your Dish Passionate Cuisine Christmas meal on December 23 and save the stress of wondering what to eat on the 24th or 25th! Their Christmas menu is full of favorites the whole family will enjoy.
Esquire Lounge
For Christmas Eve, Esquire Lounge is offering a fried chicken dinner! You can order half or a whole bird, as well as wine and desserts. Every entree order also comes with rolls, cheesy potatoes, and a salad. Order by calling Esquire at 398-5858.
Golden Harbor
You might not get a traditional Christmas meal at Golden Harbor, but you will get one of the most popular options on December 25 in town. Many love to order Golden Harbor for Christmas to keep things simple and to ensure a delicious meal. You can order online for pickup or delivery!
Hamilton Walker's
Hamilton Walker's has been doing a great job all year long offering amazing food ready to take home. You can plan a Holiday Feast with HW by ordering before December 20 for pickup on December 23. This way, you'll have everything you need for a Christmas Eve or Christmas dinner you won't forget!
Hickory River Smokehouse
Hickory River Smokehouse in Urbana is offering their "meats from The Pit" to help with your holiday meals this Christmas. Incredible options like turkey, ham, and pork loin are available and hand sliced when you are ready to pickup. Call 217-337-1656 for more details on pickup and ordering options.
Hopscotch bakery + Market
Many of us relied on Hopscotch for our Thanksgiving desserts and rolls, and Christmas will be more of the same! From sugar cookie decorating kits to cakes and breads, you have a ton of options available to order for pickup on 12/24. Maybe order double so you have a little for both Christmas Eve and Christmas! Check out their full lineup of Christmas pre-orders now.
Kohinoor
Kohinoor is an authentic Indian favorite in Champaign and they'll be open both Christmas Eve and Christmas for pickup. If you haven't tried this type of cuisine before, then make this year the year! End 2020 with something new that is sure to be a favorite in 2021.
Michael's Catering
The Christmas Menu for Michael's Catering is looking way too enticing! It'll be hard to pass up glazed ham, lamb roasts, plus an insane amount of sides to choose from and yummy desserts!
Papa Del's
Papa Del's is offering the option to grab your favorite pizza from them frozen for Christmas Eve or Christmas baking in your home. Just let them know when you order that you'd like it frozen. They take about a day to thaw in the fridge or a few hours to thaw on a countertop in a warm kitchen. If you know someone out of town who loves their pizza as well, they ship their pies nationwide!
Piato cafe
Needing dinner, desserts, or maybe just a cookie order for the holidays? Piato Cafe has you covered! Be sure to check out their illustrious menus for Christmas dinner, as well as options for desserts and cookies!
Tasty Tart
Tasty Tart is a new favorite that opened in 2020 and what better way to mark the holiday season than a box of delicious treats for Christmas! You have until December 20 to pre-order your treats for Christmas.
The wheelhouse
The Wheelhouse does an incredible job with their heat and serve meals and this Christmas, they're setting up options to feed 4 or 6, which you can order by calling 217-469-6252. You must reserve your meal to secure pickup for the 24th. With ham, mashed potatoes, and even more sides, you can ensure a delicious holiday meal as well as pick up some pies or cookies as an extra add-on. The full menu is on their Facebook page!
Chain Restaurant Options
Bob Evans: Bob Evans is offering their Farmhouse Feast lineup this holiday season with complete packages or separate sides.
Cracker Barrel: Cracker Barrel offers heat n' serve meals for Christmas Eve and Christmas as well as homemade pies.
Red Lobster: Red Lobster has a wide variety of meals available for Christmas Eve pickup.
Texas Roadhouse: Texas Roadhouse is offering pre-orders on prime rib dinners for pickup on the 24th.