Our Stories
A New Hobby Webinar Series Celebrates Down-Time
A New Hobby Webinar Series Celebrates Down-Time
January 27, 2021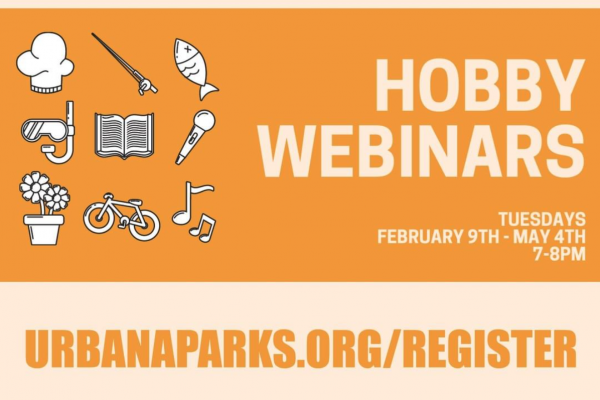 COVID-19 and social distancing leave us with more time on our hands to occupy ourselves with at-home activities. Rather than view this extra time to ourselves negatively. The Urbana Park District is set to kick off a webinar series on hobbies that are keeping us busy during COVID-19. UPD's Niki Hoesman is working to organize the series, which kicks off next month. Niki spoke to us about the inspiration behind the idea of highlighting hobbies, as well as ways in which you can get involved from home as an audience member or a presenter.
Q+A: Hobby Webinars with Urbana Park district
What was the inspiration behind this new webinar series?
Niki: "This series was created to get folks together in a COVID-friendly way. It been increasingly hard to meet new people and connect with others during this time. Additionally, some of us have found ourselves with more free time than usual and so many folks that I know have picked up a new hobby. I hope that this is a low-key and interesting way that we can connect with other people in our community and learn something new."

What sorts of hobbies can people expect to learn more about?
"Any hobby that you can think of! We are in need of folks to sign-up to share a hobby so if you have one that you would like to tell others about, let us know! If you'd rather sit back and learn, that is great too."

What's the importance of having a hobby in our daily lives?
"This might be the recreation programmer in me, but I believe that all hobbies are recreational and all recreation is therapeutic in some way. I think that having a hobby gives us goals to reach and a creative outlet. Hopefully, we all have a few hobbies!"

What's a hobby you like to lean on when you need to wind down, relax, or take a break from work?
"My favorite hobby, right now, is watercolor painting. I am very much a beginner but I love to paint. I also like sewing and crochet."

Where can people find more info on this series?
"Folks can find more information at urbanaparks.org or by sending an email to nahoesman@urbanaparks.org."
Be sure to get in touch with UPD about your hobby to share with the community!