Our Stories
Engaging With AAPI Culture In Champaign County
Engaging with AAPI Culture in Champaign County
May 19, 2021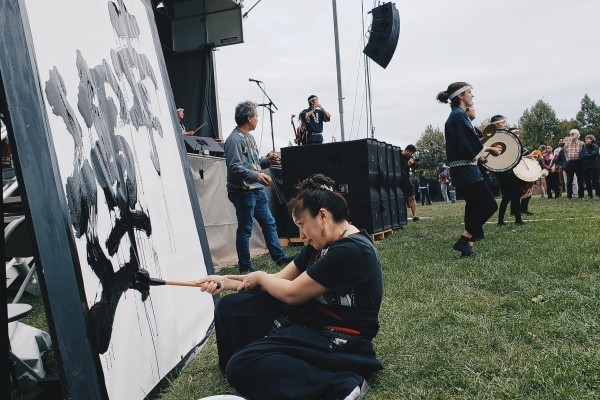 For AAPI Heritage Month, we're featuring a number of blogs to help expand your horizons and support our local Asian American and Pacific Islander community. 2020 saw a major increase in discrimination against AAPI citizens in the United States. It's worth noting that these prejudices are nothing new. We support a welcoming, open community for all here in Champaign County, and a big way to help show support is to get to know AAPI culture a bit better.
While this is not an exhaustive list of ways to learn more about AAPI culture, we think these are some well-known ways in our community we can all put more time into learning about practices, traditions, and cultural values that have for too long been left in the shadows. Getting started with these ways to engage with AAPI culture can help to expand our knowledge of the traditions and values our neighbors and friends share here in Champaign County and beyond.
AAPI CULTURAL PERFORMANCES AND CULTURAL WORKS
In the greater Champaign County area, we're very lucky to have a number of incredible museums and performance centers. These venues are invaluable for our arts and culture exposure, particularly when it comes to aspects of the arts we might not have much experience with. For example, a normal season of programs and performances at the Krannert Center for the Performing Arts often features numerous traditional renditions of AAPI plays, shows, and performances. As the Center eyes a return to a normal schedule, keep an eye on our events calendar to watch for opportunities to check these shows out.
Likewise, you can find many Asian and AAPI artists at the Krannert Art Museum. You can view the collections of AAPI works here before making a visit in person. Additionally, the Spurlock Museum has permanent Asian exhibits at their site as well as a Buddhism in Mid-20th Century Thai Villages virtual exhibit you can check out now.
Japan House Programming
The Japan House at the University of Illinois is a treasure trove of exciting and educational opportunities for learning more about AAPI culture. While many of the programs and events at the Japan House highlight Japanese practices and traditions, the unit has expanded in recent years to incorporate numerous Asian cultures into its programming. We'd highly recommend giving them a follow on social media to follow their virtual events and videos as well as to keep an eye on the return to in-person programming.
Supporting AAPI-owned businesses in Our Area
Lastly, we have a number of AAPI-owned businesses in our area that you can explore to expand your horizons. From cuisine at a number of Champaign-Urbana restaurants to shops and retail that highlight our area's diverse array of business owners, it matters where we spend our money. Supporting AAPI-owned businesses makes a direct impact on those business owners, our neighbors, and enriches our small businesses all over Champaign County. Plus, the more support we show to AAPI-owned businesses, the more doors that open for future AAPI businesses in our area.
We're always looking for new ways to connect with our AAPI residents and visitors. If you have a recommendation of an event, group, or business to highlight, please reach out to our Communications Manager at taylorb "at" visitchampaigncounty.org. Likewise, keep up with events, news, and information from Visit Champaign County on our social media channels. Give us a like or follow on Facebook, Twitter, and Instagram!