Our Stories
AAPI Heritage Month Artist Talk: EKAH
AAPI Heritage Month Artist Talk: EKAH
May 25, 2021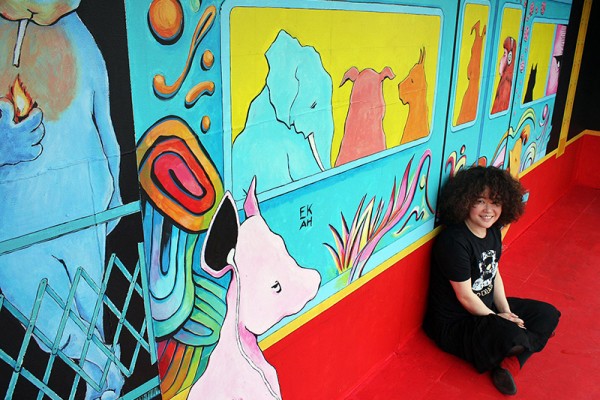 This May, we are celebrating Asian American and Pacific Islander (AAPI) Heritage Month. While we've explored food and AAPI culture & events, we can't overlook art. Home to a thriving arts scene, with local art filling our galleries and local businesses, you can expect to find something locally that inspires you and evokes an emotional response. Visual artist, EKAH, also known in Steampunk Grub, has connected to audiences near and far with her artwork. Regularly featured in various 40 North programs, including Art on the Fly, MTD Art, Lightbox, and Sky Gallery, and The Great ARTdoors, her art is accessible, whimsical, thoughtful, and emotional. Her worlds and characters mesmerize the viewer, as you seek to dive head first into the stories she tells.
Born in Seoul, Korea and growing up in New York City, EKAH now calls Champaign-Urbana home. She came on the local art scene quietly, but quickly became ubiquitous showing and selling art at arts festivals & events, murals, public art installations, and her astonishing zoetropes.
We talked with EKAH about her art, her influences, and what it's like to create and live in Champaign-Urbana.
Can you provide us a brief description of the art that you create, from prints to your animation work?
I create fictional worlds and characters from my imagination. How I present them is often inspired by my interests in visual storytelling, technology, and exploring different ways of using mediums that I am comfortable with— drawing and painting.
Being raised in Korea, how does your upbringing influence your artwork?
I sometimes draw inspiration from my childhood memories from Korea. Animal characters in settings that recreate the experiences I had as a young person is a recurring theme. "Street Food" and "The Bathers" images are good examples of that. I find it easier to transpose my personal experiences and project them onto animal characters.
How do you feel your art has been embraced in Champaign-Urbana?
My work has been received very warmly by the community, and I am grateful for the opportunities that have followed. I credit 40 North and Urbana Arts & Culture for giving me the platform to showcase my work to local audience via programs such as MTD Art, Sky Gallery, and Urbana Arts Grants. Also, I feel very fortunate to have wonderful relationships with local artists who are incredibly supportive of each other's work.
Are there any restaurants or specific dishes in the Champaign-Urbana area that remind you of home?
I am very happy to see a growing number of Asian restaurants in Champaign-Urbana. I have not yet found a restaurant that reminds me of home, but there are types of foods that do. I enjoy noodle soups of all kinds - kalguksu (Korean knife noodles), naengmyeon, ramen, pho, etc. I occasionally stop by Ozu Ramen for a bowl of miso ramen. If I have dumplings cravings, then Golden Harbor is the go-to spot. I remember during Matsuri a few years ago, Miga (now Sakanaya Downtown) served a dish called rice gnocchi. It was their take on tteokboki, a spicy, Korean rice cake dish, and it was wonderful.
How do you celebrate your heritage living in the Midwest?
I have a large, extended family that is scattered around the country. With the elder members of the family gone, we no longer have a central gathering point to celebrate the holidays together. I miss the big family gatherings the most, especially during the lunar new year and Chuseok, an autumn harvest festival. The holidays usually revolved around visiting grandparents. With an army of cousins, aunts, and uncles, we would prepare food and eat together for several days. I occasionally try to recreate the holiday dishes and share them with my spouse who is French. I hope to share them with my local friends in the post-pandemic days.
Learn more about EKAH and her art through her website and shop her store.
We're always looking for new ways to connect with our AAPI residents and visitors. If you have a recommendation of an event, group, or business to highlight, please reach out to our Communications Manager at taylorb "at" visitchampaigncounty.org. Likewise, keep up with events, news, and information from Visit Champaign County on our social media channels. Give us a like or follow on Facebook, Twitter, and Instagram!