Our Stories
2021 Champaign County Shop Local Guide
2021 Champaign County Shop Local Guide
November 17, 2021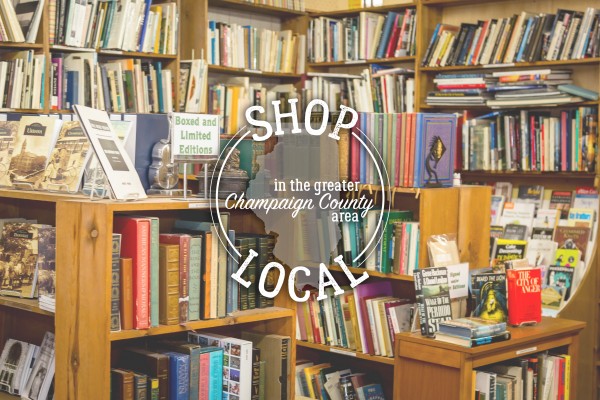 It's practically here! Throw on your favorite sweater, some comfy shoes, and get ready to shop your way across Champaign County!
It's thrilling to start making your list and planning fun, thoughtful gifts for others, and the greater Champaign County area is full of local shops and makers ready to help you make the holiday season smooth and successful!
Last year, we took extra efforts as a community to support local retailers and businesses. 2020 was an unprecedented period of obstacles, uncertainties, and unfortunate closures, and 2021 brought its own set of challenges. Rather than wonder if your online orders are going to arrive on time this year, stick to your local shops, stores, and boutiques for your gift-giving needs.
Don't just consider local this year; commit to local! In the Visit Champaign area, there's an option for nearly any sort of gift you might have on your list.
SHOP LOCAL GUIDE FOR THE GREATER CHAMPAIGN COUNTY AREA
women owned businesses to shop this holiday season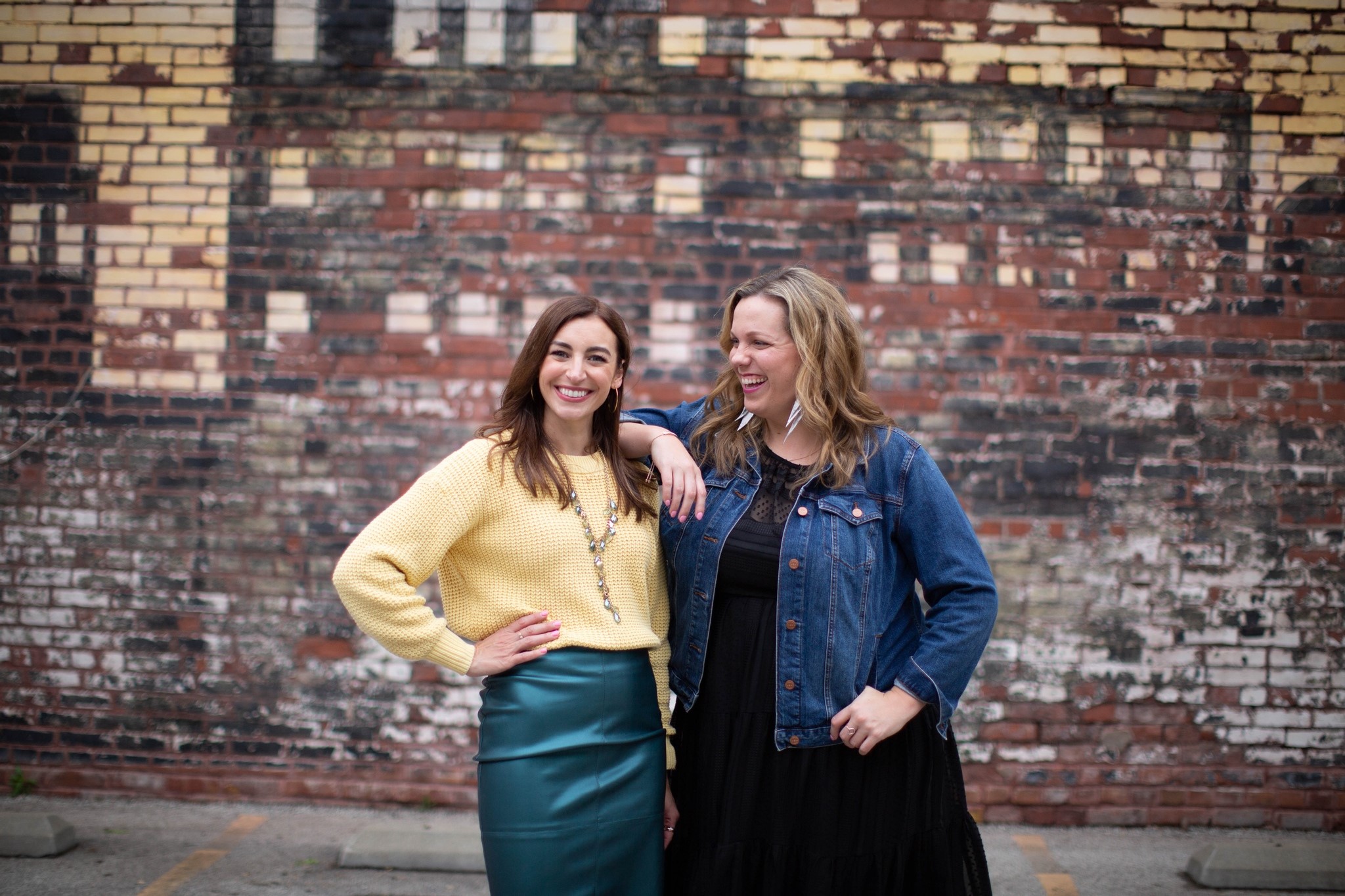 To begin this year's guide, we're introducing a new feature of our website's business directories! Visit Champaign County is proud to collaborate with Miss Market to showcase women-owned businesses in the greater Champaign County area. Select "Woman-Owned" from the categories on our Shopping and Food & Drink directories under "Things to Do" for a complete list on our website. For more information on the importance of supporting women-owned, led, and founded businesses and to discover national brands, follow The Miss Market on Facebook and Instagram , or visit their website at themissmarket.com. While you're looking, tell us if you notice that a women-owned business missing - Let us know here!
There are countless women-owned businesses to explore on our website, and a few make great stops as you start to knock out holiday shopping while supporting local. To start, if you have an artist at home, head to Art Coop for supplies to keep them creating into the new year. For the classic looks and bold accessories everyone loves, Circles Boutique is a staple of Downtown Champaign and many wardrobes! At Ms. Becky's Country Primitive Gifts and Décor, you can find just about anything country-inspired you could think of! If you love gifting ornaments to anyone, this is definitely the place to come! It's also easy to make a coffee-lover happy this time of year with a single origin roast from Page Roasting Company, served at Flying Machine Avionics. Check out all the wonderful local women-owned businesses by exploring the tab on our website's business directory!
LOOKS YOUR FRIENDS AND FAMILY WILL LOVE!
If your list is calling for clothes and accessories, local shops are ready to help turn heads and style even the most fashion-challenged people on your list! From top names in style to finds you won't believe, head to Bluebird Boutique in Urbana to find the latest and greatest gifts for women of all ages. Be sure to also stop by Checkered Moon for great pieces for the wardrobe, and don't forget the guys in your life – they'll be happy with something from Joseph Kuhn and Company no matter their style! Lastly, go big for that special someone with fine jewelry from Christopher & Co., freshly decorated with festive window displays to make shopping fun and fit for anyone you might need a gift for that special someone. En Route Boutique in Mahomet also adds a slew of options to your holiday shopping list, striving to offer the highest quality, most unique merchandise on the market today.
Game on!
If there's one thing kids love about the holidays, it's getting that new toy or game everyone's talking about! Don't be fooled, however: anyone can enjoy a good game no matter their age! Whether the latest and greatest is on a gamer's list in your life, or you want to surprise them with something Outside of Ordinary, there are a lot of local shops ready to help make this holiday successful! If you're buying for someone who is up for a challenge, a puzzle or brainteaser from Dr. G's Brainworks inside Market Place Mall is a great place to find something as fun as it is mind-melting! Have a gamer in the family? They might want to check out the options at Live Action Games in Downtown Champaign. LAG is fully stocked with new hits for the Xbox One, PS4, and Nintendo Switch, as well as retro favorites and a few next-gen titles for Xbox Series X/S and PS5. While we're on the topic of gaming, you likely know someone itching for the latest board game, Pokémon cards, or Magic: The Gathering booster box. If so, the new business Rad Lad Games in Mahomet is a place you'll need to visit! A sure-fire gift-giving favorite is Art Mart, ready to bring a smile to your kids' faces with toys, puzzles, games, and fun activities for all ages. If you want an activity for older kids, grab a gift card to an area escape room like CU Adventures in Time & Space to give them a real challenge! CU Adventures was even featured in the New York Times for their inventive challenges you can enjoy from home, plus their in-person escape rooms are a blast.
GIVE THE GIFT OF A COZY, COMFY HOME!
Is there any better feeling than adding a new, perfect-for-you decoration to your home? If you have someone who loves their home as much as you do, be sure to consider one of the greater Champaign County's home stores. St. Joseph's Country Chics is also a wonderful place to find that cozy home décor you're looking for, with favorites from Mudpie and more! For homemade bath and body products, make a trip to the Arthur General Store for bath bombs, lotions, and more from local makers. There are also plenty of other things sprinkled in that might make a great home warming gift for recent college grads or newly moved friends and family. No matter who you're shopping for, there's certainly a treasure waiting for you at Antiques & More at Staley Road. With over 8,000 square feet of space for vendors to share their timeless finds, you can easily pick up gifts that range any interest and age-range. A new addition to Downtown Champaign is Golden Weather Goods, a gorgeous collection of home decor and comfy finds sure to put a smile on anyone's face as they unwrap their gift. For fans of mid-century décor and other retro home furnishings, Furniture Lounge is a great place to find a new chair, table, or piece from their collection of art and decorative items for the home. Hoping to help a friend or family member decorate this season? Send someone a gift from Flora Design Studio to show your gratitude and wow them with something they'll want to use all winter long! Lastly, Yellow & Co. has a mix of fun and unique pieces to help people feel happy at home, Sale Street Boutique in Tuscola is full of fantastic collections of home décor and jewelry, and Monticello Mercantile, located off the historic square in Monticello, is a unique place to find the statement pieces you need to complete your living room, bedroom, and the entire home. We've also seen many take on the role of plant parents during 2020, so consider gifting something green from Plant Mode or Plantify!
READ ALL ABOUT IT!
It's tough to beat a great read during the winter months, so why not take advantage of some of the great booksellers we have in Champaign County? Three stories of adventures and timeless classics exist at the Jane Addams Book Store. in downtown Champaign. A staple of the downtown Champaign shopping scene, Jane Addams offers amazing assortments of books, magazines, and more across all genres of reading. In Monticello, Hartfield Book Company is specially curated to carry new books, unique, high-quality, book-related products and gifts, and a sure-fire way to please the bookworm in your life this holiday season. For vintage lovers and the philanthropic, Orphans Treasure Box doesn't just stock some amazing secondhand finds, but also provides all proceeds to vulnerable kids and families in our area. If you have a friend who can't stop watching Marvel movies in anticipation of the next wave of superhero epics, be sure to gift them something from G-Mart Comic Books to hold them over! Don't worry DC and Image Comic fans – they've got you covered too, plus lots of indies and one-offs worth checking out! Lastly, newly opened The Literary is a great place to find books and enjoy a bite to eat, a glass of wine, or a latte to refuel for more holiday shopping!
HOLIDAY MUST-HAVES FOR ACTIVE FRIENDS AND FAMILY!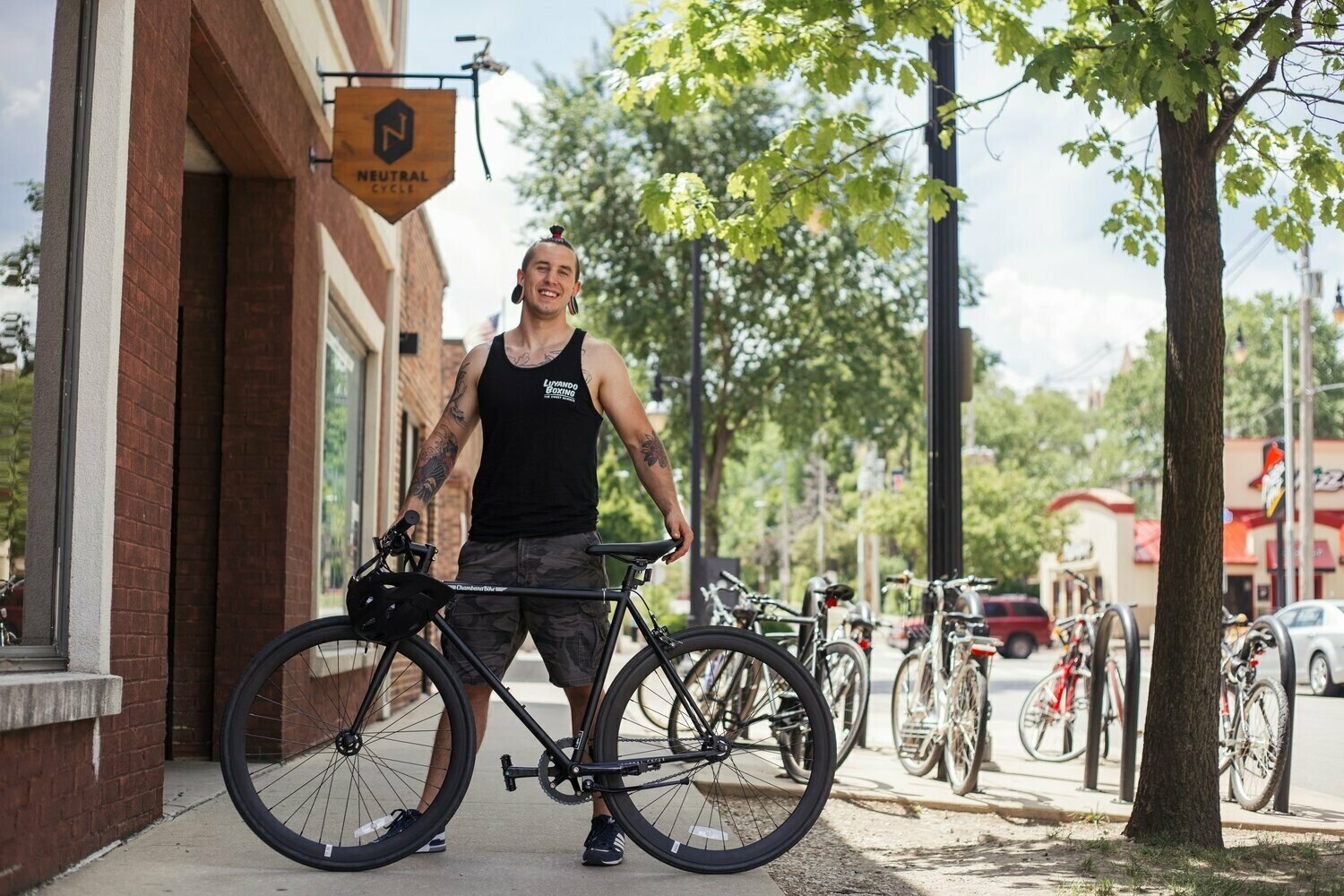 No matter if someone is looking to get fit or has been active for years, fresh gear from a local Champaign County retailer or specialty shop is a guaranteed winner. Neutral Cycle on campus is perfect for those who love to bike or might want to start riding into the new year. If they're looking to stay on foot, Body N' Sole is a favorite of Christie Clinic Illinois Marathon runners for a reason - the shop sells clothing, socks, shoes, and more to get them ready for their next race. Let's face it; running or biking in this weather is a bit rough between snow and cold temperatures, so make sure to give the gift of protection from the elements with a purchase from Rugged Outdoors. This online shop is the digital side of Champaign Outdoors who just recently reopened their doors for in-person shopping as well. Their lineup of amazing products from coats and hats to dry-fit apparel and new shoes are all easily accessible and fun to shop whether online or in-person. How about the gift of staying active indoors? A great option is a gift card to Urbana Boulders, the only climbing facility in Champaign County, no matter if they're new to climbing or not. Plus, you can always grab a gift card or punch pass to facilities offered through the Champaign Park District and Urbana Park District!
GIVE THE GIFT OF LOCAL FLAVOR!
This year, we're leading our local flavor section with a call to support local restaurants in any way you can. There are a few ways to do so that we can help our local favorites while making our holiday season experience easier. How about ordering out for your meals this holiday season instead of stressing out over busy days in the kitchen? Or, gift certificates are offered at many local restaurants and makes a wonderful gift. Who doesn't love receiving a free meal from one of our incredible establishments across the greater Champaign County area? Explore all the different local restaurants you can support this holiday season here.
Between food, drink, and desserts, you have a wide variety of options when gifting local flavor; we are Midwest Living's Greatest Midwest Food Town after all! Prairie Fruits Farm & Creamery a leader in the local food scene, sell their award-winning goat cheeses as well as their gelato. They'll also have other food options like their homemade jam, and local options from other area farmers. They're up for a national award for their cheeses in January, so you know you're gifting the best of the best with PFF! There's a lot to love about our local makers, including the Center for Honeybee Research's international choice for the World's Best Honey at Curtis Orchard & Pumpkin Patch! Their shop is still open with great gift items and delicious treats as well.
Feel confident gifting adults who enjoy a good drink with the best beer and wine our area has to offer! Between our local breweries, there is a porter, stout, or ale for everyone, and each location offers packaged beer to gift and give this holiday season! Riggs Beer Company is now offering their delicious brews in a can that you can grab at local stores or curbside at their farm in Urbana. For the wine drinkers, Wyldewood Cellars is now making their Kansas-based wine right here in St. Joseph across from their storefront, so make sure to try their popular spiced Elderberry wine! Likewise, Sun Singer and Art Mart have incredible lineups of the world's best wines to pick-up curbside and send off to friends and family. For a fun beverage that's alcohol-free, stop by Lincoln Square Mall and try locally-made Kombucha from Cloud Mountain Kombucha! If you're looking for a tasty treat to gift, then how about offering to bring a beautiful dessert that looks as good as it tastes! Hopscotch Bakery+Market always has amazing pastries behind the glass and gorgeous cakes and pies in the cooler, plus great gift options as well! A holiday mention from Midwest Living also makes Suzu's in Champaign a great place to stop for seasonal sweets!
SHOW LOCAL PRIDE, SHOP CHAMBANA PROUD
We all have community pride, so for that Chambana native on your gift list, check out our new line of t-shirts designed by local artists that celebrate all things Chambana. Our Outside of Ordinary area is really a one-of-a-kind space for artists of all interests and backgrounds to come together. Just like the residents and visitors who enjoy C-U and beyond, a diversity of experiences and tastes adds to the ever-growing richness of our artist community.
From the inventions of the modern web browser, whipped cream in a can, and super sweet corn, to general love of Chambana, we've got a t-shirt for everyone. Shop now!
SHOW THE LOVE WITH LOCAL ART!
The local art scene is something we're extremely proud of in the greater Champaign County area, and it also happens to make for a great array of sources of gifts! If you want to help someone add a feature piece to their home, Cinema Gallery, in the historic Princess Theatre in downtown Urbana, is the area's largest fine art gallery. Over 70 professional artists around the Midwest showcase their work here, which gives you a lot to choose from to find that perfect gift, maybe even for yourself! Just down the block, The Gilbert Gallery, open by appointment, represents nearly 40 local artists, from jewelry to sculpture and everything in between. How about art that's a bit smaller – okay, A LOT smaller? Cammie Meerdink at Piper Pottery creates tiny houses that seem to create a magical village that was meant to be in the woods, a fitting visual for this time of year and the colder months. Local favorite Larry Kanfer and his art gallery make for a one-stop-shop for home prints, books, calendars, and more that display the beauty of the prairie land. In Tuscola, a trip to The Vault Art Gallery is sure to net you a few holiday gifts. Across 12,000 square feet of space, you can shop the works of more than 60 Central Illinois artists. Last but not least, consider something a bit more delicate from some glassmakers in our area! Cracked Glass offers classes, which you can gift for a memorable night out with friends or family in the future, and Prairie Fire Glass does the same! Plus, Prairie Fire offers a number of pieces for sale in-house that can help complete any room of the house in style!
MUSIC TO OUR EARS!
It's only fair to say we have a number of ways to make the music lovers in your life happy this holiday season. For the rock stars in your life, Corson Music is the place to be for percussionists and drummers. Guitarists can pick up new amps, music, and vintage guitars at The Upper Bout to help them go from the practice room to the big stage! Exile on Main St. has a massive selection of LPs and turntables for seasoned vinyl fans and See You CD & Vinyl offers great options for new and old ways of listening! Another great option is Record Swap. Originally opened in 1979, this stop is great for deep cuts and favorite hits from decades past. If you're looking for a new speaker set-up, ARS Harmonia is a saving grace for audiophiles, featuring handmade, custom speakers that are sure to blow friends and family away! Champaign-Urbana is home to a killer music scene that lends itself to great local shopping options.
LOYAL TO ORANGE AND BLUE!
With a number of diehard Illini fans likely on your list, don't overlook the easy win waiting for you with a U of I-centric gift! You can't go wrong with the Illini Union Bookstore, stocked full of everything orange and blue. The IUB even stocks Chambana Proud shirts in-store so you don't have to wait for online ordering and shipping! Another fantastic option for your Illini spirit is GameDay Spirit, featuring official Illini wear for every season, occasion, and day of the week! With locations in Campustown and on Neil St., you can easily grab the gifts you need or a gift card to allow your recipient the freedom to pick something to their style and liking.
SHOP LOCAL MAKER MARKETS!
We have a handful of maker markets to explore for your holiday shopping needs. You can check out the following pop-up style markets:
Mahomet Holiday Market: November 17 - December 8
Riggs Christmas Market: November 26 - December 19
Urbana Mistletoe Market: December 4
Champaign Mistletoe Market: December 19
RECOGNIZE EXCEPTIONAL SERVICE THIS SEASON
If you're out shopping and an employee or associate makes the process enjoyable and easy, be sure to nominate them for our Cream of the Crop award! Champaign County is known for its Midwest hospitality, and we want to recognize those in this community that are Outside of Ordinary in customer service! This year, business owners and employees are going above and beyond to keep shopping a safe experience for all. Give them the kudos they deserve by nominating them as Cream of the Crop for a social media shoutout and special thanks.
SHOPPING MADE EASY IN THE GREATER CHAMPAIGN COUNTY AREA
The options are endless for shopping in Champaign County! This year, our local businesses appreciate your support more than ever. Putting dollars into a small business means directly supporting the local economy as well as our neighbors, friends, and family who own businesses in the greater Champaign County area.
Find more stories like this on our social media channels; give us a follow on Facebook, Twitter, TikTok, and Instagram.