Our Stories
Shop Local 2021: Favorite Stops For Clothes And Accessories
Shop Local 2021: Favorite Stops for Clothes and Accessories
December 2, 2021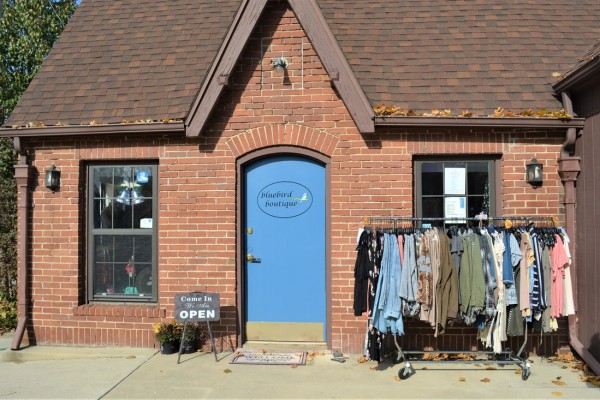 When it comes to finding the perfect gift, there's nothing quite like the perfect sweater, accessory, or piece of apparel.
There are so many great options for shopping for clothes and accessories in the greater Champaign County area. We have boutiques and name-brand stores, local outlets and so much more.
Everyone on your list is bound to get something they'll love when you shop Champaign County.
From something as simple as a cute headband to winter coats, boots, and seasonal gear, here are some of our favorite options for shopping clothes and accessories in the greater Champaign County area.
shop clothes and accessories at Local boutqiues, shops, and retail in champaign county

If your list is calling for clothes and accessories, local shops are ready to help turn heads and style even the most fashion-challenged people on your list! From top names in style to finds you won't believe, head to Bluebird Boutique in Urbana to find the latest and greatest gifts for women of all ages. Be sure to also stop by Checkered Moon for great pieces for the wardrobe, and don't forget the guys in your life – they'll be happy with something from Joseph Kuhn and Company no matter their style!
Additionally, go big for that special someone with fine jewelry from Christopher & Co., freshly decorated with festive window displays to make shopping fun and fit for anyone you might need a gift for that special someone. En Route Boutique in Mahomet also adds a slew of options to your holiday shopping list, striving to offer the highest quality, most unique merchandise on the market today.
The Tuscola Outlet Mall is a great option for brands like Under Armor and Ralph Lauren, or you can shop H&M, Forever 21, and more at Marketplace Mall as well. Plus, let's face it; running or biking in this weather is a bit rough between snow and cold temperatures, so make sure to give the gift of protection from the elements with a purchase from Rugged Outdoors. This online shop also has a great new location at Carle at the Fields.
Take a tour through local retail shops
On TikTok, we've been visiting a few boutiques and clothing retail shops you can see from home before heading in-store:
Bohemia in Urbana
Golden Weather Goods in Champaign
Sweet Soul Boutique in Tuscola
T-Shirts that show local pride
We all have community pride, so for that Chambana native on your gift list, check out our new line of t-shirts designed by local artists that celebrate all things Chambana. Our Outside of Ordinary area is really a one-of-a-kind space for artists of all interests and backgrounds to come together. Just like the residents and visitors who enjoy C-U and beyond, a diversity of experiences and tastes adds to the ever-growing richness of our artist community.
From the inventions of the modern web browser, whipped cream in a can, and super sweet corn, to the general love of Chambana, we've got a t-shirt for everyone. Shop now!
Looking for more local gifts to buy in champaign county?
Explore our entire 2021 Shop Local Guide here.
Find more stories like this on our social media channels; give us a follow on Facebook, Twitter, TikTok, and Instagram.