Our Stories
Shop Local Guide!
Shop Local Guide!
December 1, 2018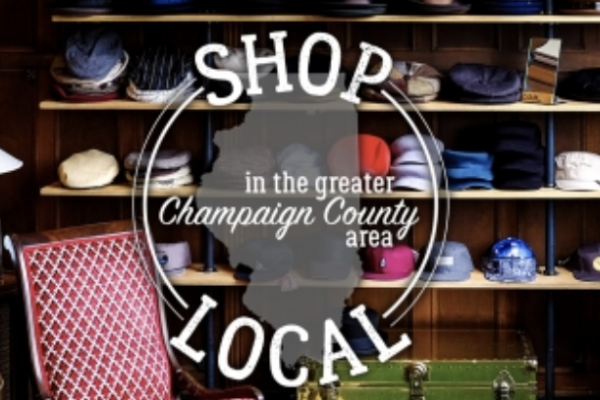 Show somebody that you think they're Outside of Ordinary with a special gift from a local business! The greater Champaign County area is a hotbed for great local shopping, which makes it easy to check off every name of your list right here in our community!
Yummy Yummy Yummy!
When you're buying gifts from Midwest Living's Greatest Midwest Food Town, the options are endless for the foodies on your list. Prairie Fruits Farm & Creamery, a leader in the local food movement, hosts their Real Stand throughout the holidays where you can pick up their award-winning goat cheeses as well as their gelato. They'll also have other food options like their homemade jam, and local options from other area farmers. To really impress your foodie friends, gift Curtis Orchard & Pumpkin Patch's honey, recently named the World's Best Honey by the Center for Honeybee Research. For a gift as beautiful as it is tasty, try Hopscotch Bakery + Market with their stunning desserts such as cakes, scones, cookies and more. Coffee lovers will enjoy a bag of single origin coffee beans from Page Roasting Company, proudly served at Flying Machine Avionics. For your family and friends who like to imbibe from time to time, gift a growler from one of our numerous craft breweries. We have seven local breweries in the Champaign County area, all offering different styles of beers to satisfy even the pickiest beer drinker. For the wine drinkers, Alto Vineyards (growing in Southern Illinois) offers bottles of their award-winning wines at their Champaign tasting room, while Wyldewood Cellars in St. Joseph (grown in Kansas) has over 40 varieties of wine available, including their popular Elderberry wine. If you just can't decide what local food to gift, let them decide. Get a gift card (or cards) from some of our locally-owned restaurants for a meal they won't soon forget.
Take a Look, It's in a Book!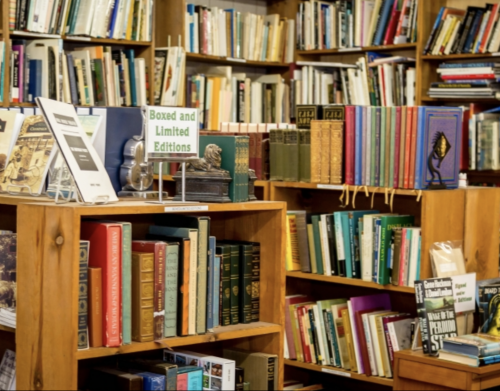 If a perfect winter weekend for you or your gift recipient involves curling up with a warm drink and a good book, the shops in Champaign County have you covered. Three stories of adventures and timeless classics exist at the Jane Addams Book Shop in downtown Champaign. Every day starting on Small Business Saturday, a different section of the store will be discounted, with $25 gift cards coming with an addition $5 gift card included! After browsing the 70,000 titles in the shop, you might just walk out with something for everyone on your list! For vintage lovers and the philanthropic, Orphan's Treasure Box donates all proceeds to benefit organizations serving vulnerable kids and families. For the Marvel fanatic or DC lover, G-Mart Comic Books has you covered, with plenty of indie options to choose from as well!
Wow Your Kids for the Holidays!
Today, a lot kids are looking for the latest and greatest toys and games, and you can pick up the must-have gifts locally! For the gamer in the family, Live Action Games is the spot for the newest games for PS4, Xbox, and Switch, and even vintage ones! Look no further than Art Mart in Champaign for a wide variety of toys, puzzles and games. This locally-owned shop has a kids section to die for with all sorts of fun and challenging toys. If your kids are into teasers and puzzles, try Dr. G's Brainworks inside Market Place Mall. Their incredible staff will help you find the perfect game or challenge to match your kids play personality. For younger kids, dressing up doesn't just happen on Halloween, which means a trip to Dallas & Co. is always on the table. For the older kids, grab a gift card to an area escape room like Brainstorm Escapes, CU Adventures in Time & Space, All In Adventures, or LabEscape to give them and their friends a challenge.
Your Home, Your Style!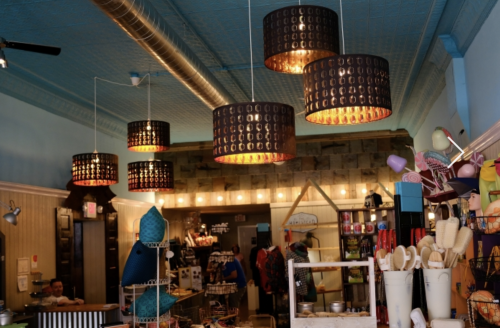 Your home is like a decorated version of your life, filled with things you look to for comfort, creative drive, and a wonderful space to host those close to you. Every taste has a place in the greater Champaign County's home stores. Head to the Arthur General Store for gifts from around the world, plus homemade bath and body products! Furniture Lounge is the stop for those ready to jump back to the mid-century décor of the 50s and 60s, with furniture, art, and decorative items to help transport your home to another time. Ms. Becky's Country Primitive Gifts & Décor in Homer will make any home cozy with their large selection of country-inspired décor. Yellow & Co. has a mix of fun and unique pieces to help people feel happy at home, Sale Street Boutique in Tuscola is full of fantastic collections of home décor and jewelry, and Monticello Mercantile, located off the historic square in Monticello, is a unique place to find the statement pieces you need to complete your living room, bedroom, and entire home. When you need a gift to bring to someone hosting for the holidays, stop by Flora Design Studio for a wonderful array of hostess gifts!
Dress for Success without Big Box Store Stress!
Whether you're buying for a fashionista or the stylistically challenged, local shops in our area will keep you turning heads, for a good reason! Shop the top names in style at Bluebird Boutique in Urbana or Small Town Chic Boutique in Arthur to find the latest and greatest gifts for women of all ages. Look classic and bold with the always-trendy looks from Circles Boutique in downtown Champaign, and check out what's new and popular at Checkered Moon at their new location on Neil St. Since 1907, Joseph Kuhn and Company in downtown Champaign has been the place to buy for that special guy, be it a colorful tie, new shirt, or a sweater. Lastly, Rumours Hat Shoppe helps finish off a look with their wide selection of hats, including lines from local makers. For fine jewelry and the perfect "wow" gift, Christopher & Co. offers a selection and shopping experience to fit anyone on your list.
Show Some Love for your Local Artists!
The local arts scene in Champaign-Urbana and the surrounding area means you don't have to look very hard to come across some amazing arts and crafts created right here in Champaign County! Cammie Meerdink at Piper Pottery creates tiny houses that seem to create a magical village that were meant to be in the woods, a fitting visual for this time of year and the colder months. A favorite for fans of the prairieland, the Larry Kanfer gallery offers home prints, books, calendars and more. Cracked Glass offers classes and workshops in stained and fused glass that can make a family activity or girls' night out more memorable than most! Prairie Fire Glass in Monticello also offers classes, as well as a gallery of amazing works from the art of glass blowing that help complete any room of the house. Cinema Gallery, in the historic Princess Theatre in downtown Urbana, is the area's largest fine art gallery. Over 70 professional artists around the Midwest showcase their work here, which gives you a lot to choose from to find that perfect gift, maybe even for yourself! Of course, you may have an artist at home or on your gift list, which means some supplies from the Art Coop in Lincoln Square might be the thing they need to create their next masterpiece.
Let your Illini Colors Fly!
Basketball season is underway, and Orange & Blue are everywhere you go this time of year in the greater Champaign County area! With a number of local places to look for some fresh gear, your closet will be game-day ready after some local shopping! The only bookstore on campus, the Illini Union Bookstore is an amazing place to find everything Illini. GameDay Spirit, with two locations in Champaign, offers their official Illinois wear for every occasion, plus a number of fun U of I themed gifts. Likewise, check out The Illini Shop both at Market Place Mall and on campus to prep for some cold-weather gear to show off your Illini pride all season long. The best accompaniment for gifting a loved one with Illini gear is tickets to a game.
Let's Get Physical!
Whether you're looking to get up and moving more in the new year or add some fresh gear into your routine, Champaign County's local shops keep you moving rain, sleet, snow, or shine. Champaign Outdoors is not only at a great new location, but also features a customizable winter jacket kiosk where you can choose the color, style, and everything in between you're your own unique jacket. Plus, they are a great place to pick up gear for hiking, climbing, and kayaking. If you commute by bike or just ride for fun, you can find all you need to keep rolling at Neutral Cycle on campus, with bikes for all terrains and the gear you need to ride safely. Have a runner, walker or swimmer on your list? Christie Clinic Illinois Marathon favorite Body N' Sole is a haven of clothing, socks, shoes and more to get them ready for their next race. For friends and family not afraid of a climb, get them a gift card to Urbana Boulders, the only climbing facility in Champaign County, no matter if they're new to climbing or not. Think healthy all year long with gift cards and punch passes for the facilities offered through Champaign Park District's Leonhard Center or the Urbana Park District's Indoor Aquatic Center.
Thank You for the Music!
It's only fair to say we have a number of ways to make the music lovers in your life happy this holiday season. For the rock stars in your life, Skins-N-Tins Drum Shop in downtown Champaign is a long-beloved haven for drummers, and guitarists can pick up new amps, music, and vintage guitars at The Upper Bout to help them go from the practice room to the big stage! Exile on Main St. has a massive selection of LPs and turntables for seasoned vinyl fans, or maybe a newcomer looking to get into the lifestyle. If you're looking for a new speaker set-up, ARS Harmonia is a saving grace for audiophiles, featuring handmade, custom speakers that are sure to blow friends and family away! Champaign-Urbana is home to a killer music scene, which means the best gift might be tickets to an upcoming show! Pick up a gift card to Krannert Center for the Performing Arts to be used for any of their upcoming performances, and check out shows heading to The Virginia Theater to scope out an Outside of Ordinary live experience!
The options are endless for shopping in Champaign County! Unique gifts, local flavor, and experiential gifts galore are waiting. Ready, set, shop!