Our Stories
Winter Is Here. You Need A (Local) Beer
Winter is Here. You Need a (Local) Beer
December 6, 2018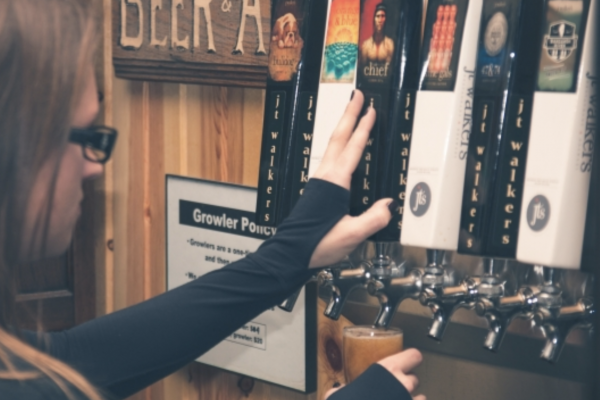 You often hear about the joys of drinking an ice-cold beer on a hot Summer's day, right? What about the joys of drinking a beer, while wrapped up in your a fleece-lined hoodie? Although we always have a hard time letting go of Fall, Winter is officially here. With that, we are going to argue that now is actually the perfect season for drinking a local craft beer. Think about it...What's the one thing that makes the holidays and a quiet snowy day a little more manageable? A beer.
As the weather continues to chill, you'll settle in with friends and family, cozy around the fireplace. You know as well as we do, that winter is coziest when you have a koozie wrapped beer in your dominant hand. Maybe you're already a fan of the craft brew scene in the greater Champaign County area, but if you haven't gone out and explored it just yet, Winter really is the season to do so...
Add some of these to your Winter Bucket List:
RIGGS BEER COMPANY | 1901 S. HIGH CROSS RD., URBANA | 217-718-5345
Riggs Beer Company is a family-owned production brewery, tap room, and beer garden on the eastern edge of Urbana. They offer four year-round beers, plus seasonal beers, cold-brew coffee, and wine. Two of their year-round beers include corn grown on the Riggs family farm in Champaign County. Their unique fusion of German and American brewing styles creates unique beers that are easy to drink and enjoy. Lagers and Wheat Beers are their specialty. Surrounded by green space, with a play area for children, it's a great destination for the whole family. The brewery conducts weekly tours; see the website for details.
The Blind Pig Brewery | 120 N. Neil St., Champaign | 217-398-5133
Blind Pig beer is truly "the beer of Champaign" as their slogan says! As the first Champaign brewery since prohibition, the popular and beloved Blind Pig Brewery was the catalyst for the craft beer craze in Champaign. Of the sixteen draft beers served at the brewpub on Neil St., most are brewed on site. Blind Pig beers can also be found in local restaurants, liquor stores and bars, including their sister bar, the Blind Pig Company, located one block to the East of the brewpub, on Walnut St. This bar was voted the 26th best beer bar in the entire country. Sit inside one of their comfortable, oak paneled antique bars, talk beer-knowledge with the bartender, or soak up the dynamic vibe of downtown Champaign from their beautiful beer garden, and you will soon realize that the Blind Pig is truly something special.
After 6 years of searching for the right location, in 2016 two longtime residents of Urbana-Champaign (U-C) decided the banks of the legendary Boneyard Creek in the heart of Urbana, IL was the place to be. Located at 208 W. Griggs Street, 25 O'Clock Brewing Company, U-C's first worker-owned cooperative brewery, has begun serving beer. The menu focuses on traditional and American variations of Belgian and English style ales.
The patio and taproom offer a relaxing setting to drink some of the finest locally produced beers in Central Illinois. They do not serve food, but feel free to bring snacks to the patio and we will soon be partnering with local restaurants.
DESTIHL Restaurant & Brew Works combines two amazing worlds into one: the fusion of craft beer and artisan foods. Located in the heart of downtown Champaign, this growing gastro brewpub creatively combines and reinvents craft beer and full-flavored dishes, often infused with local ingredients. DESTIHL brews over 50 different beer styles each year and often has as many as 17 of their beers on draft at a time. Their list is constantly rotating, with seasonal selections, specialty beer treatments, or barrel-aged beers in the mix. Create your own beer flight with their 4 oz samples, or enhance the experience by pairing 12 oz or 16 oz beers with their from-scratch menu items.
JT Walker's Brewery | 402 E Main St., Mahomet | 217-586-2665
JT Walker's Brewery has an 8.5 Barrel Brew House and four fermenters with their original lineup of beers such as Orange & Blue Wheat Ale, Hale to the Chief IPA, Bulldog Brown Ale and Taylor Field Session IPA are available year-round. They also make seasonal beers such as Yard Crusher Pale Ale, C-U Oktoberfest and Walker's Original Cream Stout, as well as one-off beers throughout the year. You can purchase growlers, 4-packs of cans or a specialty 22 oz bomber bottle to take home. They also have free darts and shuffleboard to keep you entertained while sipping one of their brews.
Monarch Brewing Company | 212 S. Independence St., Monticello | 217-631-1141
Situated in a hundred-year-old building that was formerly a church, Monarch Brewing Company has made its home as a brewery and upscale restaurant in the heart of Monticello, Illinois. Monarch offers 28 taps at the full-service bar, including a variety of selections brewed on the premises. Stay for dinner, as Monarch's menu features daily specials, house made pretzels, or a classic pub burger. Enjoy the view of the beautiful stained-glass windows inside or bring a brew outside to savor the weather on a nice day.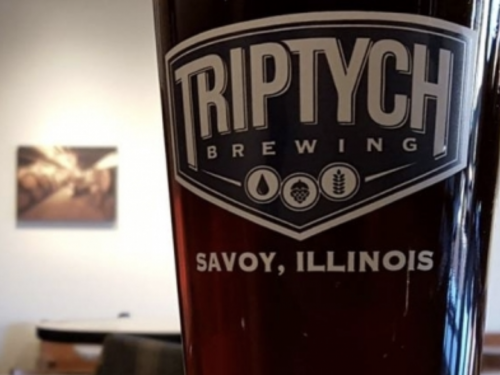 Triptych Brewing is an award-winning microbrewery in Savoy is dedicated to the production of high quality craft beer. Triptych beers are rooted in old world brewing traditions, draw upon a variety of inspirations including local ingredients, and cover a very wide gamut of tastes. At the tasting room in Savoy, Triptych offers up to 8 different beers in a lineup that changes with the seasons. Their Dirty Hippy English brown ale received a silver medal at the 2014 World Beer Cup. Since their opening in 2013, Triptych has brewed over 100 different varieties.
Ready to plan your beer trail weekend? Download our Visitors Guide for more area information, or discover the many hotels available in the area!