Our Stories
A Celebration Of Fresh, Local Flavors
A Celebration of Fresh, Local Flavors
August 27, 2019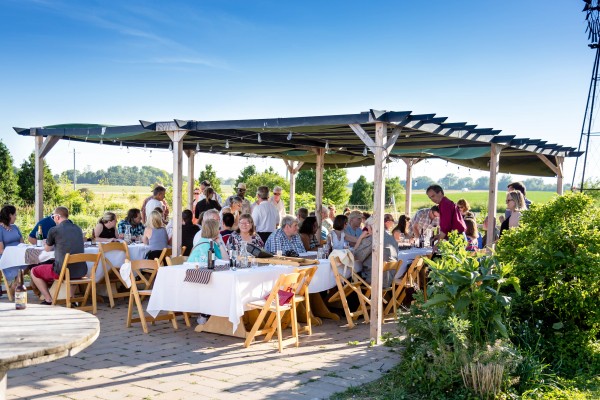 Here's a fun fact about the greater Champaign County area—We have some of the richest soil in the world right here in east Central Illinois. You can thank the glaciers during the ice age for creating this prairie, which in turn gives way to a bounty of local ingredients that we enjoy summer to fall. Check out our top recommendations to experience these fresh, local flavors!
EAT A MEAL ON A FARM
If you want to get the most of local ingredients, what better way to enjoy them on the farm where they were grown. Prairie Fruits Farm & Creamery sets up the ultimate dining experience in rural Champaign, hosting dinners and pop-up events throughout the year. Their "Dinners on the Farm" series runs from late May into early December, showcasing seasonal ingredients alongside their award-winning goat cheese. Beyond the outstanding dishes served up by guest chefs, the setting couldn't be more ideal. This working farm is home to several dozen goats who are ready to charm you on your visit. Long tables encourage a sense of community, so you can share in this slow food experience with strangers who will soon become friends. We suggest you tune into their weekly newsletter to learn about additional pop-up experiences.
Visit a Farmer's Market
Market season is long awaited after the blistery winters, as they aren't just a way to purchase local ingredients. Our local markets are experiences, with dozens of local farms, entertainment, tastings and an opportunity to run into friends and neighbors. Urbana's Market at the Square, with nearly 70 vendors each week, showcases local and regional growers from flowers to produce to locally-raised proteins. This Saturday morning market is enhanced by chef demonstrations, art at the market, kids programs and so much more. Subscribe to their newsletter to find out what's new at the market each week. In downtown Champaign, you'll find the Land Connection's Market, held every Tuesday so you can get local ingredients for your mid-week meals. With weekly recipes, cooking demonstrations, a community events tent, and kids activities, this Tuesday market is a must-stop during market season. No matter the day of the week, you can find a local market. Here's a line-up!
Tuesday: Land Connection Farmer's Market
Wednesday: Homer Farmer's Market
Thursday: Monticello Main Street Farmer's Market; Sustainable Student Farmer's Market
Friday: Mahomet Farmer's Market
Saturday: Urbana's Market at the Square
Dine at a restaurant sourcing local ingredients
One of the many reasons we were named Midwest Living's Greatest Midwest Food Town is our use of local ingredients at our local restaurants. Many in the community pride themselves on staying local whenever possible. Here's a few that come to mind.
The Wheelhouse—Located off the Kickapoo Rail Trail in St. Joseph, this small-town gem proudly uses ingredients from local farms, including Willow Creek in Urbana and cheese from Ludwig Farms. The bike-themed atmosphere is a bonus for those cyclists that stop in after a ride along the adjacent trail.
Watson's Shack & Rail—Moving towards a sustainable food system, Watson's serves up the tastiest (and juiciest!) fried chicken around. Their menu utilizes ingredients from Blue Moon Farms, Prairie Fruits Farm & Creamery, Ropp's Jersey Cheese.
Timpone's—A staple on the University of Illinois campus, Timpone's is the place to be before catching a performance at Krannert Center. Chef Jim prides himself on locally sourcing ingredients when passable, making their Italian menu change on every visit, and there will be replacement visits!
Pick local ingredients
Part of the fun of eating local ingredients is picking them yourself. In late summer and fall, a visit to Curtis Orchard & Pumpkin Patch is a perfect bucket-list item. Their season runs from July 20–December 30, with over 30 varieties of apples available for picking! Picking a pumpkin from the patch is also a rite of passage. This family-friendly stop has a small corn maze, a petting zoo, and obstacle course and much more. Don't forget to pick up some honey, named the World's Best Honey! Another stop for those pumpkins is the famous Great Pumpkin Patch in Arthur, who's decorated everything from the White House lawn to Oprah's set. With over 300 varieties of pumpkins and squash, you're guaranteed to bring home something unique. Stop in the 200 Acres Bakery for some Amish specialties, and let the kids enjoy animals, mazes and a one-room schoolhouse! You can also pick fresh fruit from the trees at Prairie Fruits Farm & Creamery when in season. Owner, Wes Jarrell, proudly proclaims his reason for starting the farm was so he could have a good peach again.
Living local is simply our way of life in the greater Champaign County area. Discover the bounty of fresh ingredients and agricultural experiences for a relaxing weekend getaway! Plan your weekend now with our free Experience Guide.