Agriculture Adventures
Monticello Farmers Market
State & Livingston St.
Monticello, Illinois 61856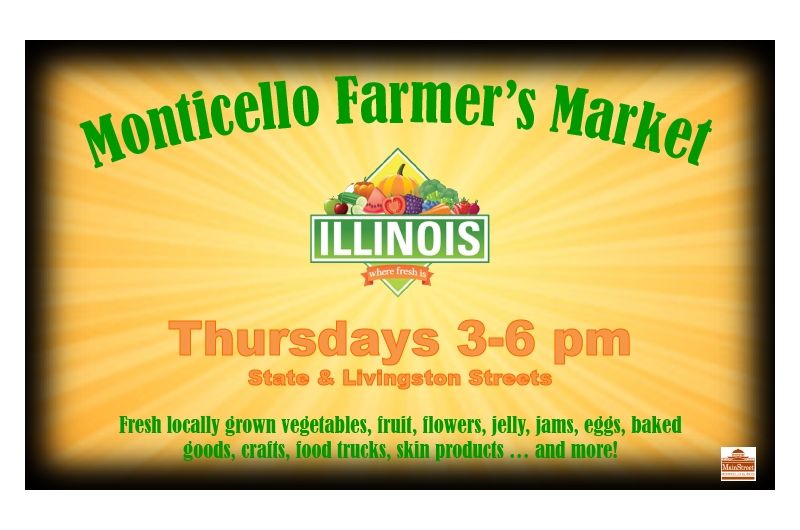 The Spring Season has returned, and has brought with it the vibrant spring flowers, green lawns, song birds of Illinois, and the Monticlleo Main Street Farmer's Market! Walk by and visit every Thursday afternoon from 3:00pm to 6:00pm, starting June 13th and lasting thru October 3rd, located at the corner of State Street and Livingston Street in front of the Allerton Library. Local vendors will set up shop and be selling fresh produce, meats, breads, honeys and preserves, crafts and more!
Weekly Vendors
Henhouse Farms - Produce
Buds and Blooms - Produce and Flowers
Karin Phillips - Natural Scrubs, Bug Sprays, etc
Brad Thomas - Eggs and Produce
John Wiegand - Hormone and Antibiotic Free Beef, Bison, Elk, Lamb, Goat and Pork
New Hope Farms - produce, herbs, and flowers
Piatt County Extension
Kirby Hospital
Aaron Wilson - Strawberry and Peach Jelly and Jams
The Peach Lady - Peaches (Starting June 30th or July 7th)
Opa's Woodshop
Wil Ma Embroidery
Felicia's Baked Goods
Handicap Accessible
Kid Friendly
Locally Owned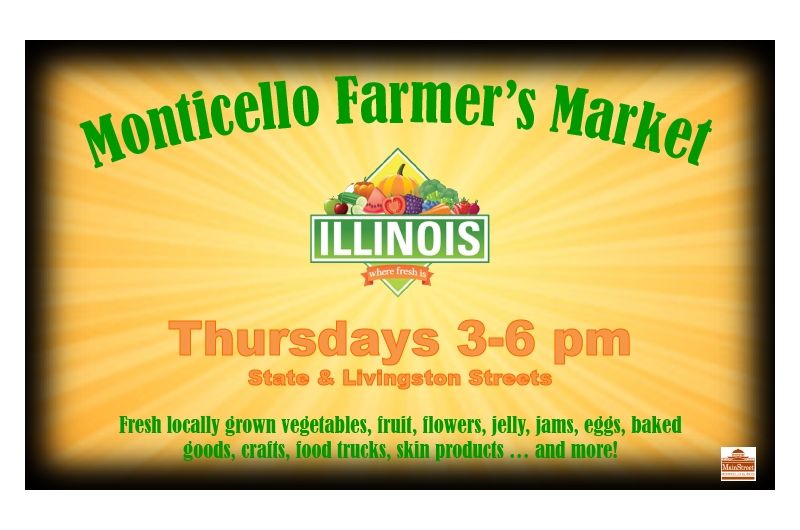 State & Livingston St.
Monticello, Illinois 61856